Big inning bedevils Turner in loss to Nationals
Big inning bedevils Turner in loss to Nationals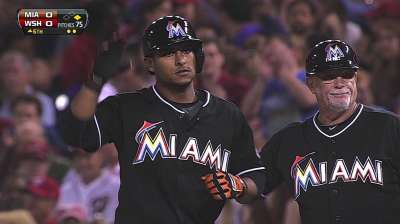 WASHINGTON -- As Jordan Zimmermann was flirting with history on Friday night, Jacob Turner was regaining some consistency. At least he was through five innings, before the game rapidly slipped away from him in the sixth.
In his final start, Turner showed signs of why he is highly regarded. But the 22-year-old also was reminded of his inexperience.
Jayson Werth delivered a two-run double and Bryce Harper added a run-scoring double in a seven-run sixth inning that propelled Washington to an 8-0 victory over the Marlins at Nationals Park. It was the Marlins' eighth straight loss in Washington.
Before the scoring outburst, Zimmermann was the story. The right-hander held the Marlins without a hit for 5 2/3 innings. His bid for the first no-hitter in Nationals' history was broken up by Donovan Solano, who hit a clean single to center on an 0-2 pitch with two outs.
Zimmermann went the distance, allowing two hits and striking out nine as he improved to 19-8.
"Zimmermann, you've got to give him credit," Miami manager Mike Redmond said. "He understands the magnitude of the game for them. It's a must win. He did what a really good pitcher does, and he shut us down."
The lone Marlins hits were by Solano and Chris Coghlan, who singled with two outs in the ninth.
"He was nasty today. He did a tremendous job," Solano said of the Nationals' right-hander. "For me, 1-for-4 is a good day off a pitcher like that. I'm blessed for that hit. Everybody tried to get the base hit."
At 56-98, the Marlins matched their second most losses in a season -- the 1999 squad was 64-98, and the franchise's worst season was 54-108 in 1998 -- and Miami was blanked for the 19th time.
As dominant as Zimmermann was, Turner kept pace by limiting the Nationals to only three hits in his first five innings.
Everything changed in the sixth. The Nationals sent 11 men to the plate and had seven hits. Five of the runs were charged to Turner, who faced six batters in the inning before he was replaced by Chris Hatcher.
The Nationals strung together four straight hits to open the sixth.
Singles by Denard Span and Ryan Zimmerman put runners on the corners, and Werth came through with a two-run double. Harper's RBI double made it 3-0.
Turner's night ended with a one-out walk to Adam LaRoche. Hatcher gave up RBI singles to Wilson Ramos and Anthony Rendon, and both runs were charged to Turner. Span, in his second at-bat of the inning, tacked on a two-run triple.
"It's not about who throws the ball well for five, their guy went nine," Turner said. "That's really the ultimate goal as a starter, to go deeper into the game. I'm pleased with the first five, and the sixth, it's definitely frustrating."
The seven runs were one shy of a season high allowed in one inning by Miami. The Reds put eight on the board in the seventh inning on April 21.
"Jacob Turner, he was dealing," Span said. "Finally, in the sixth inning we were able to figure him out. His pitches were moving a lot early in the game and the last inning we kind of just jumped on it. It wasn't moving as much and we were able to get to him."
For Turner, a promising night turned into a troublesome line. He was charged with five runs on seven hits and two walks.
"As far as positives go, I felt like I threw the ball pretty well for five innings," said the Marlins right-hander, who struck out three. "I felt like I threw the ball pretty well in the sixth inning, too, honestly. But it's baseball. They're going to get hits. They get paid to get hits, too."
Washington's win delayed the Braves from celebrating the National League East title at least one more day. Atlanta's magic number to clinch remains one.
The Marlins are shutting down Turner after 118 innings in the big leagues, and 174 1/3 total counting his Triple-A numbers.
Turner, who has an 0-9 career record on the road, finishes this season 3-8 with a 3.74 ERA, and he has dropped seven straight decisions since his last win, which came July 10 against Atlanta.
The first Marlin to reach off Zimmermann was Giancarlo Stanton, who drew a five-pitch walk with two outs in the fourth inning.
"That's a good lineup," Redmond said. "Those guys are tough to get through. [Turner] has had some struggles getting through the order the third time. At the same time, he can take some confidence out of that game, knowing that he got through those first five innings."
Joe Frisaro is a reporter for MLB.com. He writes a blog, called The Fish Pond. Follow him on Twitter @JoeFrisaro. This story was not subject to the approval of Major League Baseball or its clubs.