Nats to honor departing manager Johnson
Nats to honor departing manager Johnson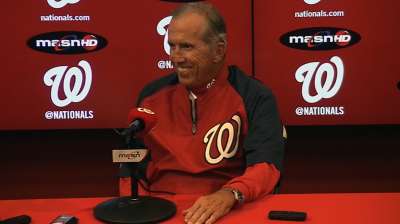 WASHINGTON -- The Nationals will recognize manager Davey Johnson in a pregame ceremony before Saturday night's game against the Marlins.
The tribute will feature a video montage highlighting Johnson's career accomplishments. General manager Mike Rizzo will also present an award to the 70-year-old manager.
"I heard they're giving me a little something on the [video] screen, that's what I hear," Johnson said. "If it's anything more than five minutes, my back may go out. We've got a ballgame to win."
The reigning National League Manager of Year guided the Nationals to their first postseason appearance last year. During the offseason, he announced that this would be his final season as Washington's manager.
Although the Nationals are still in the hunt for the a Wild Card spot in the National League, this weekend's series is likely Johnson's last home series as manager. But that doesn't mean he is ready to reflect on his time in Washington just yet.
"Probably when we're mathematically eliminated. Then it'll probably hit me," Johnson said. "But until that point, I ain't taking anything for granted. Never have, never will."
Tom Schad is an associate reporter for MLB.com. Follow him on Twitter @Tom_Schad This story was not subject to the approval of Major League Baseball or its clubs.