Lincecum falters late, Giants fall to Yankees
Lincecum falters late, Giants fall to Yankees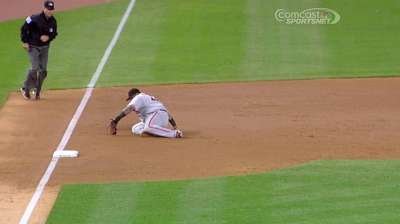 NEW YORK -- The Giants' first visit to the new Yankee Stadium turned into a learning experience. They learned that it's nothing like AT&T Park.
Alex Rodriguez hit a tiebreaking grand slam in the seventh inning on Friday and Alfonso Soriano homered earlier in the evening. Both were opposite-field drives that upheld the reputation of the big ballpark in the Bronx for seeming extremely small on balls hit to right. AT&T Park's pitcher-friendly dimensions probably would have swallowed both clouts, but here they were the hits that sank the Giants, 5-1.
Rodriguez established a Major League record with his 24th grand slam, breaking a tie with the legendary Lou Gehrig for first all-time. This capped a day thick with emotion for the Yankees, as veteran left-hander Andy Pettitte announced his retirement during the afternoon.
Tim Lincecum very nearly made this his evening, though, as the two-time National League Cy Young Award-winning right-hander was locked in a 1-1 standoff with lefty CC Sabathia (14-13) until the fateful seventh.
New York's uprising began with a stroke of luck in the form of Eduardo Nunez's seeing-eye single, a ground ball that bisected the gap between first baseman Brandon Belt and second baseman Joaquin Arias, who tweaked a hamstring on the play.
"You could see him break for it, then he shut it down," manager Bruce Bochy said. "That's why Belt backed off. He thought Joaquin had it."
Lincecum (10-14) struck out Lyle Overbay but grazed Brendan Ryan with a pitch. Third baseman Pablo Sandoval made a neat diving backhanded stop of J.R. Murphy's grounder and stepped on the bag to force out Nunez, but his throw to first base veered wide, foiling the chances for an inning-ending double play. Lincecum then walked Ichiro Suzuki, and the bases were loaded.
Having thrown 121 pitches, Lincecum exited, and in came Kontos, who began his professional career in the Yankees organization in 2006. Rodriguez guided Kontos' 2-1 fastball into the seats in right-center.
Asked about amassing a record total of grand slams, Rodriguez referred to the Yankees' last-ditch pursuit of an American League Wild Card playoff spot by saying, "You know, that means I'm getting old. It's hard to think about things like that when I'm really on the sprint that I am here. Every win is huge for us."
Rodriguez also expressed the proper respect when asked about passing Gehrig.
"I'm a huge Lou Gehrig fan," he said. "I think there will be a time to reflect on that many years after I'm done playing. The time is not right now."
As for Kontos, he sought immediate feedback by reviewing the pitch to Rodriguez on video.
"I thought it was a pretty good pitch, a little bit off the plate, maybe half a ball above the knees," Kontos said. "When I looked at the replay, he was out there leaning to get it, and he's just a good hitter. He knows what he's doing, he has a lot of experience in this game and it's one of those things where ... even if I make a perfect pitch, he still might get it. He was leaning over, looking for something, and in this ballpark, with a guy who's as strong as he is, you flip it out there and get some backspin under the ball, it tends to go to right field."
Echoed Bochy: "That part of the ballpark where [Rodriguez] hit it, if you get it in the air, it's probably going to go out. We're accustomed to our park, where those are probably outs."
Bochy was including in his comment Soriano's second-inning leadoff liner, which simply kept carrying as if guided by an invisible conveyor belt until it reached the seats.
Other than that, Lincecum was in control through six innings. But he was unhappy with his unraveling in the seventh.
"I was wasting a lot of pitches that inning," Lincecum said.
The outcome ended a personal four-decision winning streak for Lincecum, who recorded career strikeout No. 1,500 when he fanned Curtis Granderson in the second inning.
"It's cool, but at the end of the day, I lost. That's what I'm thinking about," he said.
The Giants' lone run was another cool event. Brandon Crawford walked, advanced to second base on Arias' swinging bunt in front of home plate and scored on a double by Juan Perez, who practiced baseball in Yankee Stadium's shadow while growing up in the Bronx.
Chris Haft is a reporter for MLB.com. This story was not subject to the approval of Major League Baseball or its clubs.