Yanks stay in chase thanks to A-Rod, CC
Yanks stay in chase thanks to A-Rod, CC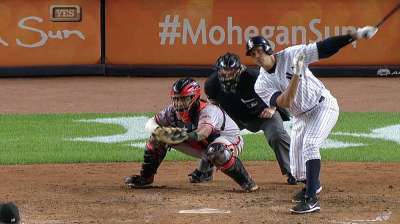 NEW YORK -- Alex Rodriguez rewrote the record books with his 24th career grand slam, passing Lou Gehrig with a tie-breaking blast that could not have come at a more crucial time for his team.
Rodriguez's shot boosted CC Sabathia -- who turned in his best effort in months -- to a win and led the Yankees to a 5-1 victory over the Giants on Friday at Yankee Stadium.
"You just want to come up in a big spot and get a big hit," said Rodriguez, who has hit seven homers this season to swell his career total to 654. "Hopefully, that hit gets your offense going."
Rodriguez's shot came off right-handed reliever George Kontos, a former Yankee, though three of the four runs were charged to Giants starter Tim Lincecum after the former National League Cy Young Award winner loaded the bases.
The victory kept playoff hopes alive for another day, as the Yankees believe they have entered "must win" territory for all of the remaining games. They have won just two of their last seven contests.
"We really needed it," manager Joe Girardi said. "Like I've said, I don't know if we can afford to lose any more games. That's the bottom line at this point. I kind of look at every game from here on out as extremely, extremely important."
Responding to that pressure, Sabathia was the most effective he's been since May 31, limiting San Francisco to one run over seven-plus innings. He said that urgency is in the air.
"One hundred percent, everybody in here feels that," Sabathia said. "It's time to go. We need to try to win out."
Sabathia worked with baserunners onboard all night, scattering seven hits with three walks, but he showed good command and a downward plane in his fastball as he limited the Giants to Juan Perez's RBI double in the third inning.
He left to a standing ovation after allowing a leadoff hit in the eighth, completing a 107-pitch, four-strikeout outing.
"I was kind of erratic a little bit with the control, but we were able to make pitches and keep them off the board for the most part," Sabathia said.
David Robertson pitched a scoreless eighth before Mariano Rivera retired the side in order in the ninth in a non-save situation.
"You don't want to get in a situation where they have a couple guys on and you have to bring [Rivera] in," Girardi said. "This way you have wiggle room. We have an off-day on Monday, so I figure I can use him three days in a row."
Lincecum held New York to Alfonso Soriano's solo home run in the second inning -- his 16th with the Yankees and 33rd of the year -- through six before running into trouble in the seventh.
Eduardo Nunez started the inning with a single and stole second. Lyle Overbay struck out, but Brendan Ryan was hit by a pitch and J.R. Murphy hit into a fielder's choice before a walk to Ichiro Suzuki ended Lincecum's night at 121 pitches.
"That's a nice job by Tim, and he just had some tough luck there that last inning," Giants manager Bruce Bochy said.
Kontos entered, and Rodriguez jumped at a 2-1 fastball, connecting for an opposite-field liner that cleared the bases. It was also Rodriguez's 14th grand slam as a Yankee, moving him past Joe DiMaggio (13) on the franchise list.
"It's awesome. It's A-Rod. Vintage," Sabathia said. "It felt good to be able to see him do that. That was a big moment and obviously won us the game."
Rodriguez spoke reverentially of the Iron Horse's accomplishments when asked about surpassing the legendary Yankee.
"I'm a huge fan of Lou Gehrig, everything he's done, going back to his college days here in New York," Rodriguez said. "He's become like the gold standard for a Yankee. It's a special moment. I'll think about it someday."
But for the Yankees there's no time to dig too deeply into any of the numbers; that can be saved for another day. They need a truckload of wins and outside help, but Sabathia believes the Yankees can fight these scant odds all the way to the finish.
"Of course. Why couldn't we?" Sabathia said. "Anything can happen. We've got the guys in here. You saw what happened tonight, and hopefully we can just keep playing well."
Bryan Hoch is a reporter for MLB.com. Follow him on Twitter @bryanhoch and read his MLBlog, Bombers Beat. This story was not subject to the approval of Major League Baseball or its clubs.