Rosario, Gaudin, Affeldt unlikely to pitch again this year
Rosario, Gaudin, Affeldt unlikely to pitch again this year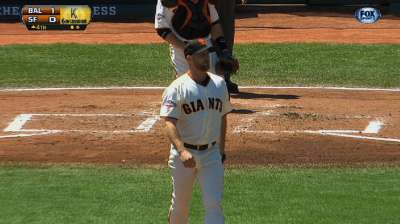 NEW YORK -- Injuries likely have ended the 2013 season prematurely for left-hander Jeremy Affeldt and right-handers Chad Gaudin and Sandy Rosario, manager Bruce Bochy said Friday.
Still bothered by the strained left groin that sidelined him, Affeldt has appeared just once since coming off the disabled list last Thursday. Carpal tunnel syndrome has prevented Gaudin from pitching since Aug. 16, and Rosario sustained a hip injury in the opener of the Mets series on Tuesday.
Bochy said the three are in the "same boat," adding, "It's doubtful they'll pitch again before the season's over."
Affeldt, who's under contract for two more years, and Rosario, who also remains under contractual control, will be back next year. Gaudin thrived both in relief and as a starter, but the nature of his injury might make the Giants wary of re-signing him.
"I think we have a sense of who he is," Bochy said. "It would be nice to get him back out there. That would mean he would be healthy and over his injury."
Chris Haft is a reporter for MLB.com. This story was not subject to the approval of Major League Baseball or its clubs.