Girardi, players reflect on what Pettitte means to Yanks
Girardi, players reflect on what Pettitte means to Yanks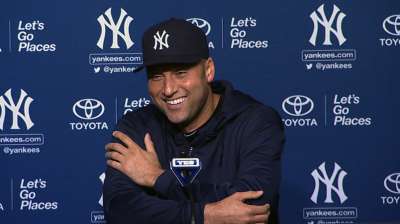 NEW YORK -- David Robertson remembers watching Andy Pettitte pitch when he was first called up to the Majors, in 2008, and he recalls being amazed every time he saw the veteran left-hander pitch with a runner on first and one out, saying Pettitte always threw the perfect pitch to get a ground-ball double play.
"I just remember sitting there and thinking, 'That's what I need to learn how to do,'" Robertson said on Friday following the announcement that Pettitte will retire at the end of this season. "He is just the definition of a gamer. When he takes the ball, he's intense out there. He's determined, he knows what he wants to do against every hitter and he just never gives up, never gives in.
"He's an intense competitor, great teammate, great friend, and he's going to be missed."
Robertson is just one of the many Yankees who shared fond memories of Pettitte on Friday.
Pettitte to retire
Complete coverage
•
Pettitte will retire at the end of the season
•
Justice: Pettitte helped redefine Yankees
•
Girardi, players reflect about Pettitte
•
Astros to honor Pettitte
•
Official release with Pettitte's statement
•
Pettitte's bio, career stats
Multimedia
MLB.com reflects on Pettitte's career
Pettitte set to retire
Jeter on Pettitte
Network: Is Pettitte Hall-worthy?
Pettitte highlights, interviews
Retrospective photo gallery
Pettitte has a career 255-152 record and 3.86 ERA over 18 seasons in the Majors, and he'll retire as baseball's all-time leader in career playoff victories, with 19.
"He's just one of the all-time greatest winners to me, playing against him and playing with him," third baseman Alex Rodriguez said. "Sometimes you build up a guy and put him on a pedestal when you play across the hall from him or across the dugout, and he's one guy that the closer you get, the bigger and better he gets."
"He's been a great teammate, mentor, father figure to a lot of us here, and we're going to miss him a lot. He's meant a lot to this organization," pitcher Phil Hughes said. "The way he's handled himself here and the way he's treated a lot of the young guys ... He's going to be missed for sure."
"He has always been an unbelievable competitor, and listening to him talk about coming back and wanting to help the guys get situated -- that's what he did," manager Joe Girardi said. "He was there for those guys, and he has pushed those guys. We have watched what he goes through in between starts, and even what he does on the day he starts, to get prepared, is a lot. It looks like it's a conditioning day before the game even starts, but he knows that's what he had to do physically to perform. He's got a tremendous heart."
With closer Mariano Rivera having already announced that he will retire at the end of the season, Pettitte becomes the second member of the Core Four to be hanging up his cleats this year.
The two will be missed, Robertson said, but it's up to the next generation of Yankees to step up in their absence.
"It's going to be tough. It's going to be a new age next year, some new faces in here," Robertson said. "I mean, we're losing Mariano and Andy Pettitte. Those are two legends here at Yankee Stadium. Nobody's going to be able to replace them. All we can do is hopefully have the guys we have fill in, step up and do as best they can."
Josh Vitale is an associate reporter for MLB.com. This story was not subject to the approval of Major League Baseball or its clubs.