Blue Jays left to watch Red Sox clinch AL East
Blue Jays left to watch Red Sox clinch AL East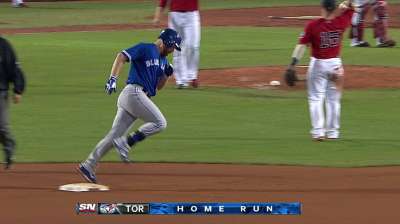 BOSTON -- The Blue Jays hoped this was going to be the year they would make it back into the postseason, but instead they found themselves as mere observers while the Red Sox enjoyed all of the riches Friday night.
Boston clinched the American League East title with a 6-3 win over last-place Toronto at Fenway Park. It was the division crown most experts believed the Blue Jays had on lockdown following an eventful offseason, and not only did it not happen, Toronto was then forced to sit through the party and wonder what might have been.
The crushing moment didn't come until much later in the night, but Esmil Rogers set the tone early with five walks while the Blue Jays were unable to get anything going against Jon Lester .
"It's very frustrating because we have the talent to be like that and we had so many opportunities to do that and we didn't make it," a downcast Rogers said after the game.
Boston clinched its spot in the postseason Thursday night, but it wasn't until the following day that the club also secured the AL East. It marked the seventh time since the start of divisional play that the Red Sox took home top honors.
In a cruel twist of fate for the Blue Jays' fan base, John Farrell also became just the seventh manager in Red Sox history to secure a spot in the postseason during his first year at the helm. Farrell is arguably one of Toronto's most disliked sports figures in recent memory after he asked for a trade to the Red Sox during the offseason.
For a long time, it appeared as though the Blue Jays would have the last laugh. Boston was going through somewhat of a rebuild while Toronto had the most talked-about offseason of any ballclub after adding the likes of Josh Johnson, Mark Buehrle, Jose Reyes and R.A. Dickey.
The big names, though, didn't result in more wins on the field. Toronto was nearly swept by Boston during the first week of the season and was seven games under .500 by the end of April. Despite an 11-game winning streak in late June, the Blue Jays were never able to recover and were officially eliminated from the postseason earlier this week.
"All I saw was them storm the field and have a dog pile on the mound and that's tough to watch because that's what you play for every year, and then seeing a division rival do it when you're playing it makes it harder," Blue Jays reliever Chad Jenkins said. "It definitely makes you hungry, you want to be the guys dancing up and down, having fun. We're just grinding away unfortunately."
Toronto appeared as though it was in for a long night from the start Friday. Rogers had difficulty controlling his slider/curveball combination and with only his sinker working, it was a recipe for disaster.
Rogers issued two free passes in the first and uncorked a wild pitch to score the game's first run. He got through a clean second, but walked three in the third -- including one with the bases loaded -- before being pulled.
The Dominican native threw just 29 of his 60 pitches for strikes in his shortest start of the year. It remains uncertain whether he'll receive another start this year or if the club will decide to go in another direction.
"When I was in the bullpen, my breaking pitches were unbelievable," Rogers said. "I said I was going to use my breaking pitches today because I was feeling good. When I came into the game, I don't know, my body was a little tight, and when I tried using my breaking pitches everything was a ball ... I threw maybe one or two good ones and the other ones were all balls."
Jenkins replaced Rogers and was relatively flawless. He allowed just two hits over 3 1/3 scoreless innings and kept Toronto close until the game got away in the seventh with Neil Wagner on the mound. Wagner allowed four consecutive singles to begin the seventh and Jeremy Jeffress later surrendered a two-run single as Boston took control.
The Blue Jays were unable to do much against Lester, the Red Sox's No. 1 starter. Toronto's lone run off Lester came with two outs in the fifth when Rajai Davis singled and then stole a pair of bases before Brett Lawrie drove him home with a single to right-center field.
Lester, who entered with a 6-1 record and 3.25 ERA at home vs. the Blue Jays, allowed just five hits and two walks while striking out eight. He stranded six runners on base en route to his 15th victory before he was lifted after seven strong innings.
Adam Lind made things interesting in the eighth with a pinch-hit two-run homer over the Green Monster. Lind's 23rd of the season came on a 3-2 pitch by Junichi Tazawa and brought the Blue Jays within two, but that was as close as they would get as Koji Uehara recorded his 20th save of the year.
"The biggest thing is John Farrell set the tone from Day 1," Lester said. "The rest of us we kind of took it and ran with it. These guys came together and played good baseball since.
"I'm a little disappointed I only went seven, but this is the most important thing so hopefully we can just enjoy it and not party too hard. Hopefully we can get that best record."
The loss meant the Blue Jays began their final road of the season on a sour note. Toronto will play two more in Boston before heading to Chicago for a makeup game against the White Sox. The Blue Jays' road slate will come to an end with three against the Orioles from Sept. 24-26.
The games won't have a lot of significance for Toronto, while Baltimore is contending for a Wild Card spot. The Blue Jays thought they would be in Boston's shoes, but instead all they can do is watch and wait until next year.
"They have a great team over there, they really do," Blue Jays manager John Gibbons said. "They ran away with a good division, it's not even close right now, so that speaks volumes to how good they are. Tonight was a perfect example, good pitching, good defense and a lot of hitting. That's a good recipe, we just didn't get enough of it."
Gregor Chisholm is a reporter for MLB.com. Read his blog, North of the Border, and follow him on Twitter @gregorMLB. This story was not subject to the approval of Major League Baseball or its clubs.