Axelrod's unexpected start in Detroit hits wrong note
Axelrod's unexpected start in Detroit hits wrong note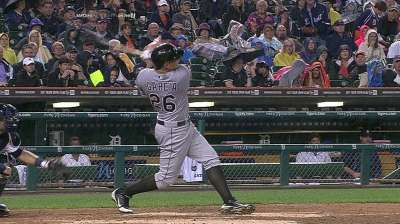 DETROIT -- Rain fell throughout the night, but it was a flurry of hits by the Tigers that stumped the White Sox in a 12-5 loss on Friday at Comerica Park.
The South Siders gave up 18 hits, the third-highest total they have allowed in a game this season and most since giving up 21 to the Indians on June 28.
Dylan Axelrod made a spot start for Andre Rienzo, who was scratched with a blister on his pitching hand. It marked Axelrod's first start since July 10, when he gave up seven runs over 5 2/3 innings against the Tigers.
However, it was more of the same, as the Tigers tagged Axelrod for seven runs on 10 hits in 2 2/3 innings.
"I found out a couple of days ago and I was prepared," Axelrod said. "I'm not going to use that as an excuse. I didn't feel really out of sorts, I went about my regular routine. I'm used to starting, so it wasn't that big of a deal. It just didn't work out."
The White Sox took an early lead after Alejandro De Aza hit a leadoff double in the first inning past a diving Torii Hunter in right field. De Aza then advanced to third on a wild pitch before scoring on Conor Gillaspie's sacrifice fly to center.
The Tigers quickly responded in the bottom half of the frame with a two-run single by Andy Dirks. It was a lead they never would relinquish, as Hunter put the Tigers up 3-1 in the second inning on a hit-and-run double. In the third, Detroit scored four runs on six singles, taking a 7-1 lead.
"They can swing the bats," manager Robin Ventura said. "They just make it difficult on any pitcher if you're not sharp. You're going to get it handed to you and that's what happened tonight."
The White Sox were able to put up a fight, with Avisail Garcia cutting the deficit to 7-3 with a two-run blast to left, his fifth home run and third since joining the White Sox, against starter Max Scherzer, who became the first big league pitcher to reach 20 wins this season.
"I hadn't played in five days, so I just wanted to get my timing back and try to make contact," said Garcia, who missed four games while on paternity leave. "I wasn't thinking about a triple or a homer or anything like that. I just wanted to put the ball in play."
Said Scherzer: "I thought I had him set up for something slow, because I'd shown him a fastball-slider combination. I thought if I threw him my curveball, he'd be out on his front foot, but he did a better job of sitting back on it and putting a good swing on it. Sometimes you just have to tip your cap."
In the fifth, Chicago loaded the bases with a walk and two hits -- a double by Gordon Beckham and a single by De Aza -- but Scherzer was able to get Paul Konerko to hit into an inning-ending groundout.
"That was a big moment in the game," Scherzer (20-3) said. "The adrenaline starts flowing. You realize the context of the game. You realize this is the time when you have to execute big-time pitches. I was able to do that tonight. I threw two really good sliders to him, probably two of the better ones I threw tonight. And that's why I was able to get out of that inning."
Afterward, Detroit was able to break the game open with five runs on five hits in the fifth inning, punctuated with a two-run single by Prince Fielder and a two-run homer by Victor Martinez, taking a 12-3 lead.
The White Sox added a pair of runs in the eighth inning, but dropped their 93rd game, the most losses in a season since 1976.
As the Tigers push forward for a spot in the playoffs, Chicago is left trying to match up with the American League Central's top team.
"You think about best offenses in baseball, they come to mind, that's for sure," Axelrod said. "It's a tough team. I tried to give my best. I made some good pitches, some bad pitches. They're a quality offense, quality team, and they make you work out there really hard. It's a tough matchup for anybody."
Bobby Nightengale is an associate reporter for MLB.com. This story was not subject to the approval of Major League Baseball or its clubs.