Epstein clarifies remarks on Sveum evaluation
Epstein clarifies remarks on Sveum evaluation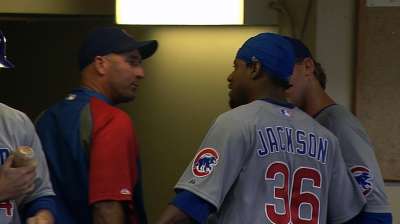 CHICAGO -- Theo Epstein said Friday he understands the speculation about Dale Sveum's status after the Cubs president of baseball operations said the manager was being evaluated, but he added the review is a normal process.
Sveum is finishing his second season as the Cubs manager and has one year remaining on his contract, with an option for 2015. On Tuesday in Milwaukee, Epstein would not confirm whether the manager was returning next year.
"I gave an answer that could be interpreted a number of different ways," Epstein said Friday at Wrigley Field. "The bottom line is we have a process at the end of the year, unless it's been a perfect season and everyone gets pats on the back. Until we get to where we want to be as an organization, everyone, including myself, gets evaluated and we look to find places where we can do things better next year."
Speculation has begun in the Chicago media on who would possibly succeed Sveum. Epstein dismissed talk about any names.
"We wouldn't be doing our job if there wasn't an evaluation process," Epstein said. "I totally understand that [for the media] it became a story. We answer questions honestly. Is anyone definitely coming back? At this point, well, no, because we're in the midst of an evaluation process.
"That's really standard for this time of year," he said, "and it'll be resolved quickly after the season and we'll move forward. I'm proud of a lot of what Dale and the staff have accomplished with the big league team this year in certain areas."
A decision could come as early as Sept. 30 when Epstein, Sveum and the coaching staff are expected to meet in Chicago.
Carrie Muskat is a reporter for MLB.com. She writes a blog, Muskat Ramblings, and you can follow her on Twitter @CarrieMuskat. Manny Randhawa is an associate reporter for MLB.com. This story was not subject to the approval of Major League Baseball or its clubs.