Braves rise up late, reduce magic number to one
Braves rise up late, reduce magic number to one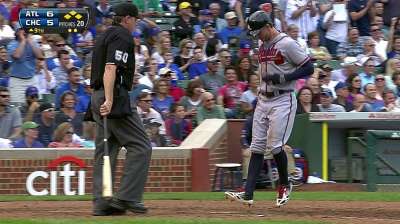 CHICAGO -- As they took yet another step closer toward a division title, the Braves followed a familiar map. An early-inning offensive flurry mirrored their red-hot start to the season and their ability to come back after squandering a lead showed more of the resiliency they used to overcome some significant injuries this season.
After blowing a four-run lead against the Cubs on Friday afternoon, the Braves scored four runs with two outs in the ninth inning to claim a 9-5 win that guaranteed they will at least be tied with the Nationals atop the National League East standings when this season is complete.
"There's no quit in this team, no matter what happens," Braves third baseman Chris Johnson said.
Once this victory was complete, Braves players, coaches and front-office members remained at Wrigley Field, or at least within the vicinity, to watch the Nationals-Marlins game. If the Marlins had won, the Braves would have clinched their first division title since 2005.
But because the Nationals won, 8-0, Atlanta's celebration will have to wait at least one more day. The Braves simply need one more victory or one Nationals loss before the season concludes next week to claim the NL East and earn their third trip to the postseason in the past four years.
The division title would spare them from having to play in the one-game Wild Card playoff for a second straight season.
"Ever since that last game last year, our goal has been to win the division and not have to worry about that one-game play-in," Braves closer Craig Kimbrel said. "It looks like we're going to do that tonight or tomorrow. I'm really excited."
Kimbrel preserved this latest victory with the comfort created by the four runs Atlanta scored in the top of the ninth. Brian McCann and Johnson hit two-out RBI singles before Andrelton Simmons extended Cubs reliever Kevin Gregg's woes by blowing the game open with a two-run double.
McCann fell behind with a 0-2 count before lining a go-ahead single over second baseman Darwin Barney's head and into right field.
"We're just well-rounded from top to bottom," McCann said. "We're just a well-rounded ballclub that competes on a daily basis over 162 games."
Energized by Jason Heyward's return to the lineup for the first time since he fractured his jaw on Aug. 21, the Braves gained an early four-run advantage with the help of Johnson's two-out solo home run in the second inning and the three-run shot Freddie Freeman hit off Cubs starter Scott Baker the next inning.
"We've been having a struggle in the first couple innings to get things going," Freeman said. "Obviously Chris got us on the board with a quick one right there. Jason and Justin [Upton] worked some big walks and I was able to get one I could hit out there."
The Cubs began whittling away at the 5-1 deficit they encountered through four innings and eventually tied the score with Dioner Navarro's two-out solo home run off Luis Avilan in the seventh inning. This was just the second home run Avilan has allowed in his big league career. The other was hit almost exactly a year earlier -- a Chase Utley solo shot on Sept. 21, 2012.
Braves starter Paul Maholm aided his cause with a two-out RBI double in the fourth inning. But the veteran left-hander, who was making his first start since his elbow bothered him during a Sept. 8 outing in Philadelphia, allowed the Cubs to take advantage of the windy conditions and make things interesting.
Maholm surrendered five singles while limiting the Cubs to one run through the first four innings. He allowed Starlin Castro to begin the fifth inning with a home run and then surrendered another leadoff home run to Donnie Murphy in the sixth inning. Junior Lake followed Murphy's solo shot with a double that put him in position to score on Luis Valbuena's two-out single off Scott Downs.
"Early on, it was good," Maholm said. "I made a couple bad pitches for the home runs. It just seemed like later in the game the pitches just didn't seem to be the same. I don't know if that was influenced by not pitching for 12 days. My arm felt good."
Chicago's two-run sixth inning was not enough to overcome the damage incurred by Baker, who allowed five earned runs in just four innings. The Cubs right-hander issued consecutive one-out walks to Heyward and Upton before allowing Freeman to drill a 1-0 sinker off the top of the batter's eye beyond the center-field wall.
Freeman's 22nd homer helped improve his batting average with runners in scoring position to .431 (53-for-123), which would stand as the best mark recorded by a Braves player in a single season.
"It was nice to draw a walk right there," Heyward said. "That's just what can happen when I get on base in front of Justin and Justin works his at-bat and both of us are on for one of the best three-hole hitters in the game right now."
Mark Bowman is a reporter for MLB.com. This story was not subject to the approval of Major League Baseball or its clubs.