Gregg falters, then apologizes after sounding off
Gregg falters, then apologizes after sounding off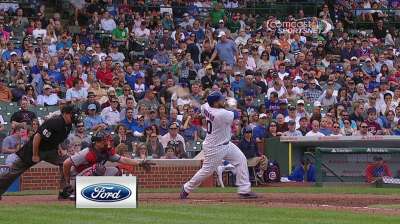 CHICAGO -- Kevin Gregg was unhappy when he interpreted Cubs manager Dale Sveum's comments Thursday about using reliever Pedro Strop in the closer role over the season's final few games to mean he was losing that job.
The right-hander -- who came into Friday's game against the Braves with 32 saves and a 2.90 ERA in 59 appearances -- said it played a role in him giving up four ninth-inning runs that lifted the Braves over the Cubs, 9-5, in the opener of a three-game set at Wrigley Field.
Chicago erased a four-run deficit after starter Scott Baker was roughed up for five runs in four innings, but Gregg was hit hard in the decisive frame, giving up two-out RBI singles by Brian McCann and Chris Johnson, as well as a two-run double by Andrelton Simmons to put the game out of reach as the Braves reduced their magic number to clinch the National League East to one.
"It didn't unfold the way I wanted," Gregg said. "I was probably trying a little too hard with what they've told me over the last couple of days [about the bullpen situation]. It makes it difficult to play this game anyway, let alone knowing what [the organization] thinks."
Sveum said on Thursday that management's decision to go with the right-hander Strop in save situations over the final few games was not a reflection on Gregg's performance. Gregg is a free agent after this season and Strop will enter his first year of arbitration eligibility.
"Kevin's done far and above the call of duty," Sveum told MLB.com. "He's done one heck of a job. It's going to be an opportunity [for Strop]. We want to see what he does in that role. Kevin has been one of the better closers in all of baseball. God knows where we'd be without him."
"With what I've done this year and things that were accomplished, for an organization to come out and say, 'Hey, we're going to go in a different direction,' a little professional courtesy would have been nice," Gregg said. "… I think that shows me that they're not that interested in me coming back here. I'll worry about next year next year, but it gives me a good indication of their thoughts going forward."
According to the Chicago Tribune, Cubs president of baseball operations Theo Epstein said he called Gregg into Sveum's office and expressed disappointment in his comments to the media.
"Apparently Kevin misunderstood Dale and thought he was having his job permanently taken away, despite getting the ball in the closer's role the last couple of days," Epstein told the Tribune. "He apparently had some choice words. … Upon hearing that, I called him up to Dale's office to tell him how disappointed I was with him, given the way we've treated him this year. You know, bringing him back … and showing faith in him and the great job he has done for us this year."
Epstein added that he would sleep on it, but he would consider releasing Gregg.
"It took him a couple of minutes to understand he misunderstood Dale and he apologized to me and to Dale," Epstein said. "I told him I would sleep on it and decide whether we would have any disciplinary action … let him know if he was released [Saturday] morning."
Gregg said it was a misunderstanding, and now that the team's plans have been clarified, he's on board.
"[Epstein and Sveum] clarified things and I was able to cool off a little bit," he told the Tribune. "It helped to be able to talk to them and see what they actually are thinking. They want to get a look at Pedro, but they are not going to take anything [away] from me, either. They wanted to work together to see what this future holds for the organization with him and myself. I am OK with that. I like that idea."
As for the game itself, Baker -- who came into the contest having allowed one run in 11 innings over his first two starts since returning from Tommy John surgery -- retired the first five Braves hitters before giving up a solo homer to Johnson in the second.
Then in the third, Baker had control problems, walking Jason Heyward and Justin Upton to set the table for Freddie Freeman, who launched a three-run shot to center to make it 4-0.
Baker issued one free pass over his first two starts, but he walked three batters in the first three innings Friday. He allowed four hits and struck out one over four frames.
In the fourth, Baker's counterpart -- Braves starter Paul Maholm -- hit an RBI double to right-center, making it a 5-1 game.
"There were some pitches that I felt were fairly close and I did fall behind in the count," Baker said. "There's a reason that [the Braves] are playing well. The walks are preventable, in my opinion, and if you do give up home runs, for obvious reasons you want them to be solo home runs."
"He obviously got the ball up a little bit," Sveum said of Baker. "He probably wasn't as crisp or had the life on his fastball like he had, or the command. I think the three walks probably hurt him as much as the home runs."
The Cubs got on the board in the third on a two-out RBI single by Anthony Rizzo.
Starlin Castro hit his 10th home run to lead off the fifth, becoming the fourth Cubs shortstop since 1901 to have at least three 10-homer seasons, along with Ernie Banks, Shawon Dunston and Jose Hernandez.
The Cubs rallied for two more in the sixth on a solo homer by Donnie Murphy -- his 11th -- and an RBI single by pinch-hitter Luis Valbuena, cutting the deficit to one.
With two outs and nobody on in the seventh, Dioner Navarro belted his 13th homer off left-handed reliever Luis Avilan to tie the score at 5. Navarro continues to hit lefties well, with a .367 (22-for-60) batting average this season.
"It was nice to see the team battle back after being down like we were," Sveum said. "We hit some home runs and the bullpen did a nice job until the end there. I was proud of the guys for battling."
"It wasn't easy today by any means," Braves manager Fredi Gonzalez said. "The Cubbies, Dale had those guys prepared and they busted their butts. They didn't roll over by any means. We've got to come back and be prepared to battle again."
The Cubs are 0-4 in the season series against Atlanta. They've also lost 22 of their last 29 home games.
Manny Randhawa is an associate reporter for MLB.com. This story was not subject to the approval of Major League Baseball or its clubs.