Twins drop back-and-forth affair in Oakland
Twins drop back-and-forth affair in Oakland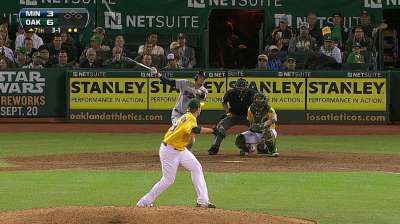 OAKLAND -- Beginning with Thursday's series opener in Oakland, the Twins will finish their season against three playoff-contending teams. This is a stretch to be relished in the eyes of manager Ron Gardenhire, and his team demonstrated as much in a back-and-forth battle that featured five lead changes.
But one team is poised to win its second straight division title while the other has a chance to lose 90 games for the third consecutive year. Ultimately, the ballclub with playoff aspirations prevailed, as the Twins (65-87) fell to the A's (90-63), 8-6, at O.co Coliseum after Shairon Martis surrendered a go-ahead two-run home run to Coco Crisp in the eighth inning.
"They came up with big hits, they kept getting the lead and we kept coming back. Finally we got a lead, and they jumped us right away again," Gardenhire said. "And not only did they jump us, they hit them in the seats. If we could keep them in the ballpark, we might've had a better opportunity to win."
Crisp's home run, his career-best 21st of the year, spoiled a valiant comeback effort by the Twins, who scored two runs in the top of the inning to tie the game, 6-6. Minnesota's bullpen has been one of its greatest points of pride in an otherwise forgettable season, entering Thursday with a 3.32 ERA compared to a 5.16 ERA from its starters.
On Thursday, though, it was the bullpen that couldn't support starter Kevin Correia. Four Twins relievers combined to yield six runs in three innings, including Anthony Swarzak, who gave up two runs off two hits and didn't record an out.
"That hasn't been the norm," Gardenhire said.
Correia tossed five innings and battled through a 35-pitch fourth in which eight batters came to the plate. The right-hander limited the damage to two runs despite issuing five walks and exited after throwing 101 pitches.
"Normally I would throw a pitch and kind of err on the plate than off the plate. I just didn't feel comfortable doing that tonight," Correia said. "I didn't want to give in. As you saw after I got out, if you make a bad pitch, these guys are sneaky powerful."
Oakland, which shrank its magic number to four in the American League West race, has benefited from an onslaught of home runs of late, hitting three Thursday to increase its total to a Major League-best 60 over 40 games since Aug. 9.
Alberto Callaspo's solo shot and Jed Lowrie's three-run blast both came with two outs in the sixth to take the lead, but the Twins responded with RBIs by Chris Herrmann and Brian Dozier to tie the game in the eighth.
"We're facing a good team right now," said Trevor Plouffe, who exited the game early with left wrist soreness but said he expects to play Friday. "They can pitch and have clutch hitting, and for us to battle like that shows we're professionals and not going to give up."
The Twins struck first in the third inning when Chris Parmelee beat out a throw from second base off the bat of Alex Presley, and they scored two more in the sixth inning off RBI singles by Josmil Pinto and Pedro Florimon.
Pinto is batting .367 since Sept. 1 -- the highest average among American League rookies and third highest among all rookies -- and has reached base safely in 11 of his 13 starts. The Twins have lost four of their last six games, seven of their last 11 and 11 of their last 16 as they opened their final road series of the season. The effort is still there, as was evident by their play Thursday.
"Another win isn't really going to change our season that much. I'm just going to go out there and throw a good game," Correia said. "Wins and losses are kind of out of our hand, but at this point in my career I'm trying to win games. I'd rather give up a few runs and get the win than throw a good game and not get the win. Losing is not that fun. I'd love to go into the offseason with a W."
Jeff Kirshman is an associate reporter for MLB.com. This story was not subject to the approval of Major League Baseball or its clubs.