Crisp slugs 21st HR as A's trim magic number
Crisp slugs 21st HR as A's trim magic number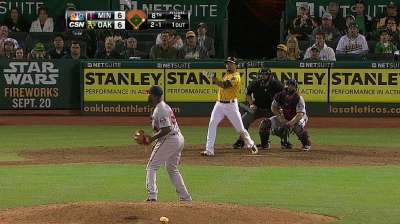 OAKLAND -- Oakland's magic number is down to four after a homer-happy 8-6 victory over the Twins at the Coliseum on Thursday night.
After the bullpen faltered for a second straight day, with a struggling Ryan Cook giving up two runs -- along with the lead -- in just one-third of an inning, Coco Crisp bailed him out with a go-ahead two-run homer in the eighth.
Of Crisp's career-high 21 home runs this year, 13 have put the A's ahead, as have 24 of his 48 career home runs with Oakland.
"I've hit for respectable power in the past. I'm just having one of those years," Crisp said. "I don't know if it'll ever happen again, but I am grateful. Hopefully it will, but it is what it is right now, and I'm grateful to be able to do it in a helpful fashion as well."
"I think it's a confidence factor and knowing your swing more and more each and every year and hitting them in the right spots," said manager Bob Melvin.
Jed Lowrie made up for a costly third-inning error by untying the game in the sixth with a three-run homer that gave the A's the lead at the time. It was the shortstop's 13th of the season and the A's second homer of the inning, following pinch-hitter Alberto Callaspo's game-tying, two-out solo shot to left field.
Oakland has lived by the long ball since the All-Star break, totaling a Major League-leading 74 of them in that time and going 34-24 along the way, all the while building a healthy 6 1/2-game lead over the Rangers.
Texas beat the Rays in Tampa on Thursday night, and the earliest the A's can clinch the American League West is Saturday. That's also the soonest they can secure any kind of postseason berth, as their magic number to reel in at least a Wild Card spot is three.
The A's also reached the 90-win threshold for the second straight season, marking the 17th time they've done so since moving to Oakland in 1968. Only the Yankees have more in that span, with 23.
It's hard to imagine where Oakland would be without the likes of offseason pickup Lowrie, in the same way it's hard to remember the A's pre-Callaspo. Both have provided the A's more production than they could've ever expected.
Then there's Josh Donaldson, who has simply outdone himself. Oakland's third baseman was at it again, reaching base for a 24th straight game. He did it three times Thursday via a walk and two hits, the last of which preceded Lowrie's game-changing homer.
"Jed, obviously tonight, a big one, and Callaspo a big one as well," Crisp said. "We definitely have a lot of threats in our lineup, and it takes a lot of pressure off of just one guy being the power supplier. As a team, it definitely makes us more dangerous, when you have a few guys in double digits, a lot of guys, actually, in double digits. You can't just focus on one guy because everybody has that potential."
"You'll take the home runs when you get them," Melvin said. "Similar to last year, we can manufacture runs, and for a period of time there we were doing it. We feel like we can score in a number of different ways, and right now we're hitting a lot of long balls."
These efforts supported a 5 2/3-inning performance from righty Dan Straily, who allowed three runs (two earned) on three hits with three walks and six strikeouts.
After Lowrie's throwing error in the second led to a run, the first of the night by either team, Straily got some offensive help in the fourth, when Josh Reddick doubled home Brandon Moss off righty Kevin Correia and later scored on Stephen Vogt's sacrifice fly.
But the righty found trouble in the sixth in what would turn into a two-run inning for the Twins. Then Oakland's four-run sixth was followed by yet another worrisome performance from Cook, who has allowed six runs and 20 hits in his last 12 appearances, spanning 7 2/3 innings.
But the long ball saved the A's again, and lefty Sean Doolittle picked up his fifth win with a perfect 1 1/3-inning outing.
"The bullpen's been doing a great job for us all year. It goes back and forth," Crisp said. "This game is a crazy game. You just gotta hang in there through the ups and downs. They took care of us when we weren't hitting, and hopefully we can take care of them if they're going through a tough spell as well."
"Coco was huge for us," Doolittle said. "He's been such an integral part of our offense all season long. It's no secret what he brings to the table for us. He's our sparkplug. He sets the table. He's stealing bases, making things happen on the bases, his defense is great, and obviously one of the big stories for him this year has been his power. We've been riding him all year, and tonight is just another case of him putting us on his back and getting us the win."
Jane Lee is a reporter for MLB.com. Read her blog, Major Lee-ague, and follow her on Twitter @JaneMLB. This story was not subject to the approval of Major League Baseball or its clubs.