GM encouraged by Mauer's progress from concussion
GM encouraged by Mauer's progress from concussion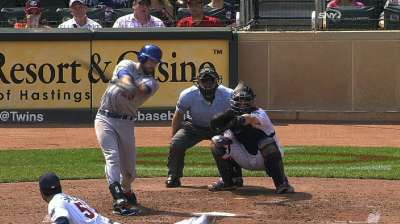 OAKLAND -- Twins general manager Terry Ryan was happy to report prior to Thursday's series opener against the A's that catcher Joe Mauer has responded positively to treatment with his concussion and that he could rejoin the team upon its return to Minnesota on Monday.
"Slowly but surely he's getting better, and today was one of the better days," Ryan said. "That's better than what I've been telling you. He's making some progress."
It's been exactly a month since Mauer suffered a concussion off a foul tip on Aug. 19. He's been working out at home but is expected to return to Target Field on Friday as he continues to progress. Both the length and intensity of his workouts have increased, Ryan said, and his symptoms have lessened.
"If he continues to have no symptoms, you'll see him," Ryan said. "I'm holding out hope that we ultimately can get him back on the field. So we're working toward that."
Twins trainer Dave Pruemer recommended Mauer work out at home instead of at Target Field, which he's done the past handful of days, though Ryan made a point of saying that the opportunities to exercise are available at Mauer's home.
Minnesota's All-Star catcher, who 's batting .324 with an .880 OPS, 11 home runs and 47 RBIs in 113 games this season, has not had an impact test in a week.
"It's nice to hear that he's feeling better," manager Ron Gardenhire said. "We were at home and he definitely wasn't feeling good when we left. He went through some good times and we know there's going to be some steps backward. Just to hear that he's had a couple good days in a row is a good thing.
"As long as he can come to the ballpark and hang out, that'll be good enough for us. Hopefully we can get him back on the field, but the big thing is his health. Just get him healthy. That's what we're after."
Jeff Kirshman is an associate reporter for MLB.com. This story was not subject to the approval of Major League Baseball or its clubs.