Redmond's career-best start lifts Blue Jays
Redmond's career-best start lifts Blue Jays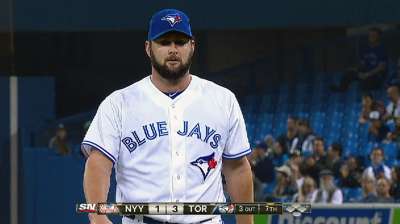 TORONTO -- Blue Jays starter Todd Redmond had a career-best outing, continuing where he left off in his last start, and took care of the Yankees easily in Thursday night's rubber match.
The 28-year-old rookie allowed just one earned run in a career-high seven innings, and the Toronto offence scraped together more than enough runs as the Blue Jays defeated the Yankees, 6-2, in front of 32,003 at Rogers Centre.
Redmond was coming off an outing in which he was in the middle of his best start of his career, allowing just three hits, but was surprisingly removed after 75 pitches and 6 1/3 innings. Toronto's bullpen went on to lose that game, and manager John Gibbons didn't make the same mistake twice.
Having already thrown 85 pitches on the night, Redmond entered the seventh inning for his final frame. He set down Alfonso Soriano and former Blue Jays Vernon Wells and Lyle Overbay to finish off his career-best night.
"Sometimes you learn your lesson," Gibbons said. "If you look at the way his starts have gone, he usually chalks up a lot of pitches early, and he's been basically a five-inning guy. ... He was a different guy against Baltimore, but you always keep that in the back of your mind. ... But tonight he was pretty much the same guy the way he's pitched the last two starts, so [I] gave him a little longer rope tonight. But those are the things you earn until you prove that you can do it."
Redmond allowed one earned run on four hits and a walk, while striking out seven. He has now allowed three earned runs or fewer in all but one of his 12 starts this season.
While Redmond's success has come as a surprise to many, it's not a shock to the St. Petersburg, Fla., native.
"Nope," said Redmond when asked if he was exceeding his expectations. "I just know my ability. I know I was capable of doing it. I've done it throughout the Minors. I got the chance, and now I'm just trying to go with it and run with it when I have the chance. Go out there and throw strikes. If you do that, you'll be successful against anybody."
It's been an impressive six-month turnaround for the former career Minor Leaguer, who entered the season with one start in the Majors and was unable to crack the Baltimore roster in the spring.
"It's definitely been a good year," Redmond said. "Actually getting the opportunity to pitch, get in the rotation, it's a dream come true, actually."
The only blemish for the right-hander came in the sixth, when Curtis Granderson squared up a 1-2 pitch, hitting a line-drive home run into the first deck in right field to close the Toronto lead to one.
"I threw one bad pitch tonight to Granderson and you see what happens," Redmond said. "Leave the ball up and it gets hit."
With the way Redmond was pitching, Yankees starter Hiroki Kuroda had to be on top of his game, but it was more of the same from the struggling righty, who entered the contest with a 7.06 ERA and a 1.57 WHIP over his past five starts.
His line was actually better in this one, but he allowed more than his fair share of baserunners. Through six innings, Kuroda gave up three earned runs on eight hits and four walks.
"Gutsy," Yankees manager Joe Girardi said of his starter's outing. "He was in trouble every inning. He got some double plays that helped him. It seemed like the first guy was on every inning, or the first two guys were on every inning. He did a really good job of minimizing damage."
The Blue Jays had two runners reach base in the first two innings, but it wasn't until the third that they got to Kuroda.
With Anthony Gose on first, Jose Reyes hit a slicing double into the gap in left-center field, easily scoring the speedy Gose to break open the scoring. Then Reyes came around to score on a soft chopper up the third-base line from Brett Lawrie to put Toronto up by two.
The Blue Jays would strike once more against Kuroda in the sixth after Granderson's no-doubter in the top half of the frame. Gose, who finished a triple shy of the cycle, hit his second home run of the season into the Yankees' bullpen in right to restore the two-run lead, 3-1.
"Very thrilled," said Gose of his 3-for-4 night. "Just trying to hit the ball really, make contact."
Adam Lind provided an insurance three-run home run into the second deck in right field off reliever Joba Chamberlain to provide Toronto with all the cushion it would need.
For the Blue Jays, it was their second straight series victory at home over the Yankees after losing 10 straight games earlier in the season to their American League East rivals.
It was also the second straight win for Redmond against New York, who's now 2-0 with a 2.13 ERA in those two outings.
"He competes, he doesn't give in, nothing rattles him," Gibbons said. "He's a lot like [left-hander Mark] Buehrle from the right side. They have the same mental approach. They just compete -- good, bad or ugly. They don't back down from anything, they just take the ball. You need more of those guys in this game if you're going to win anything."
Evan Peaslee is an associate reporter for MLB.com. This story was not subject to the approval of Major League Baseball or its clubs.