Bats show life for Yu as Texas ties TB atop Wild Card
Bats show life for Yu as Texas ties TB atop Wild Card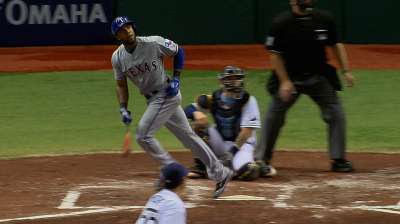 ST. PETERSBURG -- Rangers starter Yu Darvish did not win an anticipated pitching duel with Rays All-Star left-hander Matt Moore on Thursday night.
Darvish instead won a five-inning game of Survivor as the Rangers ran away with an 8-2 victory against the Rays at Tropicana Field. The Rangers scored six runs in four innings off Moore after not getting anything the two previous times they faced him.
The Rangers and the Rays are again tied for the American League Wild Card lead. If they finished tied for the top two spots and meet in the Wild Card game, it will be played at the Ballpark in Arlington, because the Rangers won four of seven against the Rays this season. The Indians are a half-game back.
"We're playing better baseball," shortstop Elvis Andrus said. "That's how we're looking right now. You can see how everything is starting to fall on track. Everybody's feeling better, relaxed out there. We know that we still have a lot of tough games ahead, but if we can do that, if we can stay out there and be aggressive, we're going to be in good shape."
Andrus had one of the Rangers' four home runs on the night. Three of them came in the third inning, which the Rangers entered trailing, 2-1. Mitch Moreland led off the inning with a home run -- his third in 124 at-bats against left-handers -- and Andrus and Alex Rios went back-to-back off Moore with one out.
"It was definitely a good one for us," Moreland said. "That's a good team over there. Moore has been tough. You know you always got to battle against him, and we were able to create some opportunities and finally get in their bullpen and make the most of it. It was a big win for us."
Darvish staggered through five innings. He faced 22 hitters and 12 reached base on six walks, five hits and one hit batter. But he gave up just two runs, both in the first inning, because he induced two double-play grounders and catcher Geovany Soto threw out two attempted basestealers. Darvish was done after 109 pitches.
"As you can see, I didn't have any of my pitches, fastball or breaking balls," Darvish said. "Somehow I managed to get through five innings and keep the game close."
The Rangers didn't get any order on the mound until Robbie Ross took over in the sixth and retired six straight hitters. Tanner Scheppers and Joe Nathan finished up. Manager Ron Washington said Nathan wanted to get back on the mound after blowing a save Wednesday night. The Rangers' relievers allowed just two singles over four scoreless innings, but Washington was close to going to his bullpen much earlier because of the way Darvish was struggling.
"He just kept making pitches in the right situations and prolonging his outing," Washington said. "He found out what grinding means. He just couldn't get any rhythm going out there and couldn't get a good release point, but when he had to make a pitch, he made a pitch. Sometimes you have to figure out ways to get things done when you're not at your very best, or even at your minimum. And he did that tonight."
The Rangers took a 1-0 lead in the first on Rios' RBI single for their first run ever off Moore. He shut them out for 5 1/3 innings earlier in this season in Arlington and for seven innings in Game 1 of the 2011 ALDS.
It was also the first run they scored for Darvish in 18 innings with him on the mound. But Darvish, who lost his previous two starts by a score of 1-0, turned around and gave the Rays two runs in the bottom of the first. Most of the damage came with two outs.
He hit David DeJesus with a pitch to start the inning, retired the next two hitters, then walked Evan Longoria and gave up a run-scoring double to James Loney to tie the game. Darvish followed with walks to Kelly Johnson and Desmond Jennings to force in a run before finally striking out Jose Lobaton and end the inning.
"There were some pitches that were really close and I wasn't getting some calls, but I moved on" Darvish said. "The ultimate goal is to win the game, so I tried to turn the page and keep working."
The Rays had baserunners every inning against Darvish, but they couldn't do any more damage. Both managers agreed the double plays were the difference.
"Darvish is wonderful, but he was totally off his game tonight with six walks, and to not take advantage of that, that was our fault," Rays manager Joe Maddon said. "Double plays have been our bane lately. Truly the double plays beat us up."
The Rangers went ahead with the three home runs in the third and added two more in the fourth. The Rangers had Craig Gentry at third and Ian Kinsler at second with two out when Andrus beat out a grounder to deep short. Both runners scored as Kinsler raced in from second before Loney realized what was happening at first.
Moore, who was 7-0 with a 1.90 ERA in his last 10 starts and hadn't suffered a loss since June 14, was finished after four innings.
"The middle of their lineup was giving me a hard time," Moore said. "Those home runs, those are pretty hard to work around. It doesn't matter if they're solo, if there are three of them, they're going to put you in a hole."
T.R. Sullivan is a reporter for MLB.com. Read his blog, Postcards from Elysian Fields, and follow him on Twitter @Sullivan_Ranger. This story was not subject to the approval of Major League Baseball or its clubs.