No, but yes! Sox returning to postseason
No, but yes! Sox returning to postseason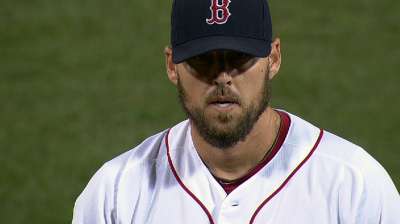 BOSTON -- The roar of the crowd picked up a notch when John Lackey hopped out of the dugout to pitch the ninth inning on Thursday night at Fenway Park.
Not only was Lackey closing in on perhaps his best performance in a Boston uniform, but the Red Sox were about to clinch their first postseason berth since 2009.
Shortly thereafter, the Fenway faithful erupted again, as Lackey completed a two-hitter -- leading the Red Sox to a significant 3-1 victory over the Orioles.
"I mean, it's nice to be a part of going to the playoffs," said Lackey. "There was a lot of hard work getting back to this point, for sure. To be back here and be pitching well again and being healthy, it's been fun."
Though the Red Sox have their eyes on the bigger prize of winning the American League East, something that could happen as early as Friday, it was still significant to punch a ticket to October baseball. The Rays lost to the Rangers, putting Boston's magic number for clinching the division to one.
"We know where we're at," said Red Sox manager John Farrell. "We know what was pending. We still feel like the next step is a more important one than this. We know that we're in. We've said a few times that winning the East, that's been a stated goal since Day One of Spring Training. That's getting closer. I think that will be more the realization of where we've come from and where we are at that moment."
Lackey had a no-hitter going for 6 1/3 innings but Adam Jones broke up that bid by belting a towering homer over the Green Monster.
For a while, it felt like something special could be taking place at Fenway for the right-hander, who didn't pitch at all last season after undergoing Tommy John surgery.
"I didn't get that far ahead," said Lackey. "We were just trying to win a game, man. Especially in a 3-0 game, you can't get too far ahead of yourself. With their lineup, that can get out of hand pretty quick. You've got to just try to make pitches. You can't think about that."
By the time it was over, Lackey had accomplished his mission, and the Red Sox avoided being swept at Fenway for the first time this season.
Boston finished in last place a year ago, making this year's turnaround all the more impressive.
"Our main goal was to try to get in and win the division and win the World Series," said Dustin Pedroia. "We'll celebrate when we win the division."
There will be time for reflection when the Red Sox win the division. Thursday was more about Lackey.
"Just an outstanding ballgame," said Farrell. "The remake of John Lackey both physically and getting back on the mound and performing as he's done all year mirrors that of this team. It's been a remake and it's somewhat fitting that, to clinch a spot to get into the playoffs with him on the mound and to go nine innings the way he did, like I said, it was very fitting."
It was Lackey's first nine-inning complete game since joining the Red Sox in 2010. All season long, Lackey (10-12, 3.44 ERA) has been impressive in his return from Tommy John surgery. The only thing he has lacked is run support, but the Red Sox have done a better job of that lately.
Lackey dazzled over those 6 1/3 no-hit innings, locating his fastball perfectly and occasionally mixing in his secondary pitches.
"I felt pretty good," Lackey said. "I was locating my fastball, had a little bit on it. My arm felt good. I threw a bunch of them tonight. Salty [catcher Jarrod Saltalamacchia] called a great game as usual back there. It was fun."
After the homer by Jones, Lackey got right back into his groove, striking out Nick Markakis and getting Danny Valencia on a grounder to short to end the seventh.
J.J. Hardy singled in the eighth inning. Lackey breezed through a 1-2-3 ninth.
In the early to middle innings of this one, Lackey was simply overpowering the Orioles. The only baserunners he allowed in the first six innings were walks to Brian Roberts (third inning) and Nate McLouth (sixth).
"He had such a good fastball," Farrell said. "I think the first 24 or 25 pitches he threw were all fastballs and he stayed out of the middle of the plate. One time I looked up [at the scoreboard], I think he still had like 75, 77 percent strikes. It was just very good fastball command.
"He stayed out of the middle of the plate. He showed very good conviction. Maintained his stuff through the full nine innings. They were aggressive early, that allowed him to be so efficient. There was no doubt that he was going to walk back out there for the ninth."
This wasn't the first time Lackey flirted with a no-no into the late innings. On July 29, 2008, Lackey -- then with the Angels -- had a no-hitter at Fenway against the Red Sox until Pedroia broke it up with a single with one out in the bottom of the ninth.
While pitching for the Red Sox, Lackey came close to another no-no on July 22, 2010, at Safeco Field. Casey Kotchman broke that one up with one out in the eighth.
The Red Sox had struggled mightily against O's righty Chris Tillman in previous encounters this season, but they came out swinging in the bottom of the second. Saltalamacchia started it with a double to right. With one out, Stephen Drew belted a two-run homer that just cleared the Green Monster to break the scoreless tie.
Jackie Bradley Jr. followed with a double to left. Pedroia smashed an RBI single to right and Lackey had a 3-0 lead.
But the real fun at Fenway could happen Friday against the Blue Jays.
"We've still got some other goals ahead of us," said Lackey. "Hopefully here in the next night or two, we can get a party going."
Ian Browne is a reporter for MLB.com. Read his blog, Brownie Points, and follow him on Twitter @IanMBrowne. This story was not subject to the approval of Major League Baseball or its clubs.