Jays honor Mo with sculpture, check for charity
Jays honor Mo with sculpture, check for charity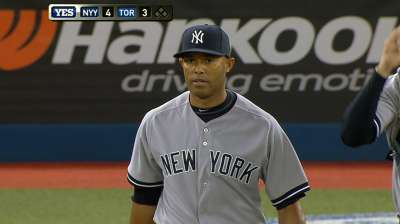 TORONTO -- Mariano Rivera's last stop north of the border was highlighted by a warm welcome prior to Thursday night's Yankees-Blue Jays game at Rogers Centre.
The Blue Jays honored the all-time saves leader with a $10,000 check to the Mariano Rivera Foundation -- the closer's charity -- and a sculpture called Kiviuq's Journey by David Ruben Piqtoukun, who is considered to be one of the top contemporary sculptors in Canada.
Pitchers Darren Oliver, Casey Janssen and right fielder Jose Bautista presented Rivera with the sculpture, which is meant to illustrate a hero's journey. The sculpture depicts Kiviuq wrestling with a giant fish at the moment of the catch and showcases him triumphing over enormous odds as a result of his determination.
It is meant to be a symbolic gesture to the longevity and success Rivera has had throughout his career.
Fans and players from both teams -- who were at the top steps of the dugout -- gave the 43-year-old a standing ovation during the ceremony, which included highlights on the video board of Rivera's career.
Toronto is the second-to-last road city Rivera visited before he retires -- the Yankees end their regular season with three games in Houston.
The farewell ceremonies and tributes for Rivera have been going on all season, but manager Joe Girardi explained why they are not getting old.
"People appreciate the way he has done this. There is never anything that says, 'It's is about me.' It's always about the team," Girardi said.
"He is humble when he does the job and gracious when he doesn't do the job. I think people have a lot of respect for that and the way he goes about his business. He plays the game the right way."
Rivera made time during his previous trip to Toronto, on Aug. 27, to greet 20 longtime Blue Jays employees, including people from the grounds crew and finance department, and shared stories with them in a private room. Blue Jays manager John Gibbons said Rivera has gone out of his way to make time for others behind the scenes, and that he is the type of player that doesn't come around very often.
"He's one of the legends of the game," Gibbons said. "I think it's good for baseball. He's a class act and carries himself like a champ."
Blue Jays reliever Steve Delabar, who was a teammate of Rivera at the All-Star Game, had a chance to interact with him during the Midsummer Classic and said it was a special experience.
As much as Delabar is impressed with the type of player Rivera is, he -- like many -- said he's an even better person.
"You watch the guy growing up, what he has done, and then to meet him on a personal side was great -- you see how humble he is, how professional he is," Delabar said. "You can't ask for more from a guy. For me, on my side, you look up to someone like that. As much as you see the numbers, you want to be like what he is."
Delabar, who has a three-pitch arsenal consisting of a mid-90s fastball, slider and wipeout splitter, is amazed that Rivera has been able dominate the league for as long as he has with one pitch -- the cutter.
"It makes me wonder, maybe I should just throw one pitch," Delabar joked. "The hitters key in on that one pitch, and what they have tried to pick up on hasn't worked. He found the pitch and it has worked for him for a long time."
Rivera has recorded 54 of his 652 saves against the Blue Jays -- his fourth most vs. any team -- and has a career 1.81 ERA against the AL East rivals.
Chris Toman is a contributor to MLB.com. This story was not subject to the approval of Major League Baseball or its clubs.