Double trouble: Orioles now two back in Wild Card
Double trouble: Orioles now two back in Wild Card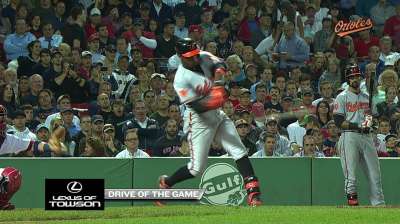 BOSTON -- The Orioles' aggressiveness at the plate was a close-to-perfect ingredient for John Lackey's no-hitter cocktail.
Lackey pounded the strike zone with fastballs on Thursday night and the Orioles kept swinging. But the hits weren't falling.
Lackey carried a no-hitter into the seventh inning before Adam Jones hit a homer, but the O's offense was lifeless for much of the Red Sox's 3-1 win that clinched a playoff berth for Boston. The Orioles leave town having taken two of three in the series and nine of 16 overall this season,
"After you win the first two you'd really like to see [if you can sweep]," manager Buck Showalter said. "They have a good pitcher on the mound, we have a good pitcher on the mound and usually there's a small margin of error. Our guys aren't satisfied with [winning two of three]. Mathematically over a long season it bodes well, but we're in a different spot. Every game is either a gained opportunity or a missed one."
And this was a costly missed one. The Orioles fell from one to two games back in the Wild Card. On Friday, they will start a four-game series with the Rays, who are tied with the Rangers for the two Wild Card spots, with the Indians a half-game behind.
The Orioles had just two baserunners, both coming on walks, until the seventh inning, and four all night. A naturally aggressive team forced to attack by the strike-throwing Lackey, the O's finished with just two hits -- J.J. Hardy singled in the eighth -- as Lackey needed 113 pitches for his first nine-inning complete game this season.
"With their lineup, that can get out of hand pretty quick," Lackey said. "You've got to just try to make pitches."
Jones said the Orioles wanted to stay aggressive against Lackey, and they did. But they didn't see any 3-0 counts and had 14 at-bats end in three pitches or fewer.
The Orioles have seen fewer 3-0 counts (249) and 3-1 counts (425) than every other team in the American League but one. It's hard to fault their aggressiveness when, for much of the season, it had been working.
Until September, the runs were in surplus.
But the fourth-best offense in the Majors has fallen to the middle third during the season's final month, and it's anchored a pitching staff that ranks near the top of the big leagues with a 3.17 ERA since Sept. 1. They've gone 16 games without scoring more than five runs.
"I don't think anybody is trying to do anything different [offensively]," said Brian Roberts. "You come in here to a place like this and we're going to get three good pitchers. We're going to go to Tampa and get four good pitchers. So I don't think anybody expects to go out and score 10 every night. We've got our work cut out for us and we're just trying to get wins at this point. We have to score more than the other team."
Chris Tillman pitched another strong game, holding the Red Sox to three runs in seven innings.
Tillman struggled through the first two innings, allowing three runs on two walks and five hits, including a two-run homer by Stephen Drew. But he found his groove after that, allowing just two baserunners through the next five innings.
It was just too late.
"That's the way these games go at the end of the season," said Tillman. "You have to be on top of it from the get-go all the way through. I made some mistakes and they were big."
Jason Mastrodonato is a reporter for MLB.com. This story was not subject to the approval of Major League Baseball or its clubs.