Right mindset has Rasmus enjoying consistent year
Right mindset has Rasmus enjoying consistent year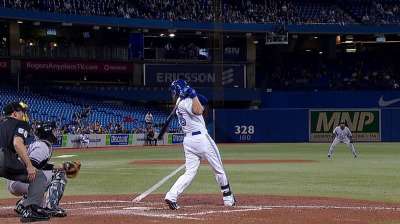 TORONTO -- Since returning from an oblique injury, Colby Rasmus has had no trouble finding a rhythm at the plate.
After missing a month of time with the injury, the Blue Jays center fielder entered Thursday night having homered in four straight games since returning, tying the longest streak for a Toronto player this season.
"Yeah, I'd say I feel pretty good," Rasmus said. "That's why I took my time to make sure I got it right, so I could come back and not have any problems with it, and it's been feeling fine."
With the recent surge, Rasmus is just one shy of a career-high 23 home runs set in 2010 and '12, and he is in the midst of one of his finest and more consistent seasons at the plate.
Just last year, the 27-year-old struggled mightily with consistency that saw him hit .256 before the All-Star break, and .176 after.
While Rasmus is happy that his numbers this season have seen fewer peaks and valleys, his biggest accomplishment is the lessons that he's learned as a professional baseball player that have helped him turn the corner.
"The most important thing for me is that I've learned to filter things," Rasmus said. "Whenever somebody says something to me, I take it for what it is, and not try to be something that I'm not. ... I just try to be myself, go out there and play a baseball game and have fun."
Arguably the mental side of the game has always been Rasmus' biggest issue in the Majors. His talent has never been questioned, but issues with the Cardinals' management and his personal demons never allowed him to fully tap in to the vast potential of talent.
These days, the Columbus, Ga., native is no longer worried about the expectations of others, and he's focused solely on enjoying the game.
"I'm playing a baseball game like I'm a little kid," Rasmus said. "Just having fun. Just trying to hit the baseball. Not thinking about what somebody thinks of me and what I should try to do because they see me and the abilities they have don't mean that's what's going to happen for me. ... I just try to go out there, relax and play.
"I don't listen to what people have to say about what I should be doing, what I shouldn't be doing. I just try to stay focused on what I feel is good for me, and my routine. I think that's helped me a lot."
Evan Peaslee is an associate reporter for MLB.com. This story was not subject to the approval of Major League Baseball or its clubs.