Crain targets weekend return after instructional game
Crain targets weekend return after instructional game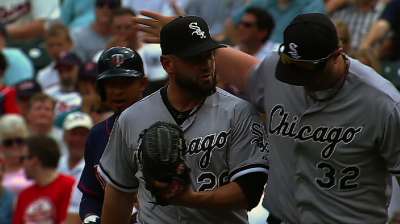 ST. PETERSBURG -- Jesse Crain threw 20 pitches and allowed a home run in an instructional league game Thursday in Sarasota, Fla., which could be the final hurdle before the Rays activate the All-Star reliever.
Although he was not facing Major League hitters, Crain said pitching in a live game was important to his progress as he continues to recover from a right shoulder strain he suffered before being traded to the Rays from the White Sox in July.
"[It was important to] get in a little bit more of a game atmosphere, with guys running the bases ... just kind of to get a little more adrenaline, even though it was smoking hot out there," Crain said. "I just think it was a little bit of a step above a simulated game, as far as getting out there and throwing different pitches and stuff."
Crain is unlikely to appear for the Rays until Saturday at the earliest, but could be activated Friday, depending on how he feels.
"I feel comfortable," Crain said. "I threw strikes with all my pitches, which is the biggest thing to tell if I'm close to being ready or not. Ultimately, it's going to come down to what [the Rays] want to do, also. You want them to feel comfortable with me going into a game.
"Obviously that goes for me, too. I feel like as soon as I get into a game, I have to be a step above where I am. We'll just see how I feel tomorrow, and hopefully all is well and we'll make that next step."
Bill Chastain is a reporter for MLB.com. Sam Strong is an associate reporter for MLB.com. This story was not subject to the approval of Major League Baseball or its clubs.