Odorizzi joins Rays in advance of callup, bullpen role
Odorizzi joins Rays in advance of callup, bullpen role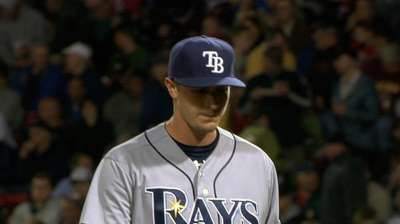 ST. PETERSBURG -- Jake Odorizzi is expected to be activated by the Rays on Friday, which would begin his fourth tour of duty with the club this season.
The 23-year-old is 0-1 with a 5.09 ERA in five appearances, four of which were starts. The right-hander arrived Thursday to the Rays' clubhouse.
Odorizzi credited his June 18 start against the Red Sox in Boston for helping turn around his season. He allowed one run on five hits without walking anybody in 5 2/3 innings of a no-decision.
"After that, everything went a lot better," Odorizzi said. "Confidence went way up, efficiency went up. It's kind of like a re-start to the season. It was awesome from then on out. I was really happy with the way I pitched."
Odorizzi said he was happy to be pitching well, finishing his season at Triple-A Durham with a 9-6 record and 3.33 ERA.
"It's the best time of year to have everything in order," Odorizzi said. "Just looking forward to doing whatever they need me to do up here. So I don't know what my role will be, but whatever it is, I will embrace it and be ready for it."
Rays manager Joe Maddon said Odorizzi will start by working out of the bullpen.
"We'll see how it falls after that," Maddon said. "There's no specific plan yet, no."
Maddon said Odorizzi got better every time he came up with the team.
"I think the big thing that happened there was we got to understand him better," Maddon said. "And then we were able to help him regarding game planning. And I think that's where you saw improvement.
"I like him. I think he has good makeup. Fastball plays, good curveball, good slider. Everything plays. I just think it's a classic example of a guy understanding how to use his stuff more efficiently."
Speculation has suggested Odorizzi could make a start at the expense of struggling Jeremy Hellickson. Asked if Odorizzi could make a start, Maddon replied: "There's a chance, but we have not discussed that yet."
Bill Chastain is a reporter for MLB.com. Sam Strong is an associate reporter for MLB.com. This story was not subject to the approval of Major League Baseball or its clubs.