Gibbons could keep mixing, matching relievers
Gibbons could keep mixing, matching relievers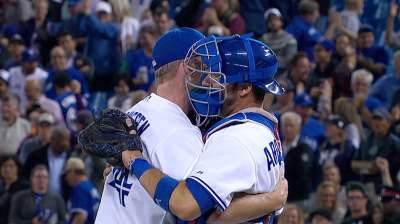 TORONTO -- In Tuesday's 2-0 victory over the Yankees, the Blue Jays relied on Casey Janssen and Sergio Santos to close out the game, but that may not be a familiar combination next season.
Both Janssen and Santos have proven to be extremely valuable late-inning arms for Toronto when healthy, and with Santos being a former closer with the White Sox, the pair would surely solidify an already strong bullpen as the club's go-to shutdown men.
That, however, is not how manager John Gibbons foresees it.
While Gibbons raved about the value of Santos moving into next season, he likes the idea of having the ability to mix and match his relievers based on matchups.
With a bullpen that will also include All-Stars Brett Cecil and Steve Delabar -- and possibly Dustin McGowan -- next season, it's hard to see faults in his argument.
"We like them all," Gibbons said. "Earlier in the year, we had Cecil coming in getting some big outs late in the game. Delabar was primarily the eighth-inning guy. ... So [there are] many different ways you can go."
"It's nice to have different guys, so that you don't have to rely on the same guys every night."
While some teams seem to rely on just one or two pitchers in big situations late in the game, Gibbons believes he'll be able to trust at least four players in crucial moments.
This despite Delabar having some regression in the second half, sporting an 8.56 ERA since the All-Star break, compared to 1.71 before it, and Cecil experiencing elbow issues that cost him the remainder of the season.
Gibbons believes there's no reason to expect a decline in their overall performance.
"I don't see why there should be any dropoff," said Gibbons, who added that when that occurs, it's usually an issue of workload. "We're conscious of [their workload]. I don't think there's too much excess that should affect any of them next year."
If that's the case, the Toronto bullpen may emerge even stronger in 2014 with at least four relievers the Blue Jays skipper has faith in.
Evan Peaslee is an associate reporter for MLB.com. This story was not subject to the approval of Major League Baseball or its clubs.