Tribe loosens leash on Salazar as season winds down
Tribe loosens leash on Salazar as season winds down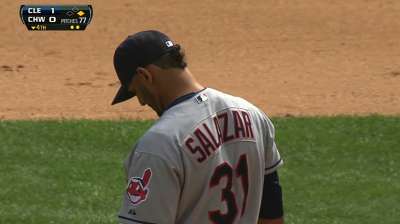 CLEVELAND -- Danny Salazar said after his outing Wednesday that he had been told the pitch limits Cleveland put on him in the past would not be in place as he threw in Kansas City. On Thursday, Indians manager Terry Francona said that wasn't quite the case.
Salazar threw 89 pitches in his debut on July 11 and 103 pitches against Detroit in the next outing. Across the seven outings since then, the 23-year-old has been held to between 71 pitches and 82 pitches, with the latter total being achieved on Wednesday when he tossed six innings.
"We've gotten to a point in the year now where we're actually starting to stretch him back a little bit," Francona said, "and he looks strong. Now, we're not going to let him go out there and just flail away at 130 pitches.
"I think part of what was getting in the way is he kept looking up at the pitch count. He was not only trying to get outs, he was trying to get them quick."
After undergoing Tommy John surgery in August 2010 and missing most of '11, Salazar began this year at Double-A Akron and moved to Triple-A Columbus before joining the Indians. In 21 Minor League appearances (20 starts), Salazar threw an average of about 70 pitches each time he took the hill.
In nine starts with the Tribe, Salazar is 1-3 with a 3.09 ERA. He has 57 strikeouts and 14 walks over 46 2/3 innings.
The Indians have kept a close eye on their young flamethrower, and while the restrictions of the past seem to be loosening, the organization will continue to make sure that his future is not jeopardized.
"We're never going to just have him untethered," said Francona, who doesn't want to overwork any of his pitchers, regardless of past injuries or operations. "Danny's in a good spot. And if he wasn't in a good spot, we wouldn't be pitching him."
Mark Emery is an associate reporter for MLB.com. This story was not subject to the approval of Major League Baseball or its clubs.