Francona values Giambi's mentoring and motivation
Francona values Giambi's mentoring and motivation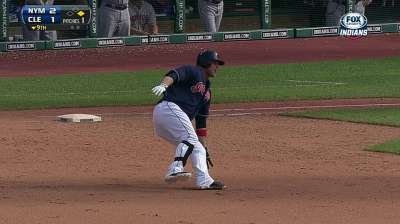 CLEVELAND -- Countless times, Jason Giambi has drawn from his vast experience and gone out of his way to mentor and motivate his Indians teammates. He has called several team meetings, the last of which transpired before the club's recent road trip to Chicago and Kansas City.
"He has carte blanche. I'm serious," Indians manager Terry Francona said Thursday. "The more he talks, the better off we are, myself included."
That's been a familiar refrain for Francona, who, in describing the 42-year-old Giambi's value, never feels as if he's doling out enough credit. The skipper believes the veteran leadership provided by Giambi has been instrumental to the Indians' success this season. Cleveland entered Thursday just a half-game out of the second American League Wild Card spot, with 10 contests to play.
Francona knows that his managerial responsibilities include addressing the team and keeping its players focused and prepared. With that said, he appreciates a member of the team who is willing to do the same thing.
"When it comes from a manager too much, it can be considered panicking or nitpicking," Francona said. "When it's coming from a teammate, it's being a good teammate. I've always felt like when you have solid leaders in the clubhouse that care enough to police themselves, those are the teams that are good. It never fails. I can pick out all kinds of stuff, but when it comes from within, when they care about each other enough to say something strong to each other, that's when you've got a good thing going."
Mark Emery is an associate reporter for MLB.com. This story was not subject to the approval of Major League Baseball or its clubs.