Tribe keeps pace with Carson's walk-off knock
Tribe keeps pace with Carson's walk-off knock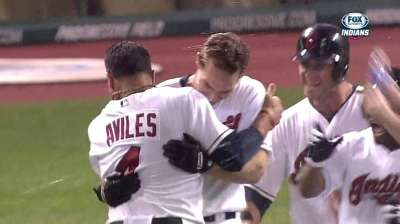 CLEVELAND -- It has been a long road to Cleveland for Matt Carson. A dozen years spent in the Minors, sleeping on draining bus trips, playing in small towns, living on low pay and doing everything possible to get that sweet taste of the big leagues that every player craves.
The way Carson sees it, it has all been worth it.
There he was on Thursday night, embraced on the infield by Mike Aviles, and soon swarmed by his Indians teammates, who stormed the Progressive Field diamond to celebrate a 2-1 walk-off win over the Astros in 11 innings. Called up in late August to fill a part-time bench job, Carson assumed the role of hero to keep the Tribe's Wild Card hopes very much alive.
"Man, I've crisscrossed the country quite a few times playing this game," Carson said. "It's been a good journey."
With the bases loaded in the 11th inning, Carson sliced a fastball from Houston reliever Rhiner Cruz past diving second baseman Jose Altuve. As he sprinted up the first-base line, Carson had to shift to his toes for a moment to see if the ball actually made it beyond Altuve's glove and into right field. The roar of the home crowd was indication enough.
Carson broke a tie that had held since the second inning, and then broke into a smile.
Sitting on a podium in an interview room across the hall from Cleveland's clubhouse, manager Terry Francona smiled as he heard -- through two walls -- the cheers of his players. They yelled Carson's name and mobbed him a second time. After Ubaldo Jimenez set the tone with another stellar start, Carson concluded the marathon with the Tribe's 10th walk-off win of the season.
Nine different players have delivered those game-winning hits.
"You can hear the guys in there right now," Francona said. "He's come up and impacted the Major League team. He goes in, he plays defense, he gets hits. It's kind of rewarding to see a good kid get rewarded like that."
Carson's heroics -- the outfielder has seven hits in eight at-bats with the Indians this month -- also helped the Indians hold their ground in the postseason picture.
Thanks to the win, Cleveland remained a half-game back of one of the American League's two Wild Card spots. Texas and Tampa Bay, which faced off on Thursday, are tied atop the Wild Card standings after the Rangers' latest victory. The Orioles (two games back), Royals (three) and Yankees (3 1/2) all remain in the thick of the playoff chase.
On the surface, the Indians appear to have an advantage over the rest of the teams given their remaining schedule, which includes games against the Astros, White Sox and Twins. That said, led by lefty Dallas Keuchel's seven strong innings, Houston showed that it still plans on putting up a fight.
"If we didn't win, it wouldn't be fun at all," Jimenez said. "Houston, they played really hard today. They're not chasing anything right now, but they came out and they played hard."
Jimenez logged seven innings, finishing with nine strikeouts and no walks, and experienced his lone setback in the second, when Houston churned out three straight hits en route to a sacrifice fly from L.J. Hoes. Tribe catcher Yan Gomes aided Jimenez's effort by throwing out Altuve on a stolen-base attempt in the third, and he later showed savvy again with a pick-off of pinch-runner Jake Elmore at second base in the 10th.
In the ninth inning, Indians closer Chris Perez loaded the bases with one out before striking out Brett Wallace and Hoes to escape unharmed.
"Everybody might be nervous, except for him," Francona said of Perez. "When he gets in that position, it seems like he makes his best pitches."
Keuchel, who surrendered an RBI single to Jason Kipnis in the first inning and three of Nick Swisher's career-best four hits, kept pace for Houston. He struck out seven, scattered seven hits and sidestepped harm at a variety of turns. The Astros' bullpen followed suit, staving off Cleveland's rally attempts until the Tribe's decisive push in the 11th.
Francona utilized every aspect of his roster, too.
Jose Ramirez entered a pinch-runner, costing Cleveland its designated hitter in the eighth inning, and Francona turned to Jason Giambi and Lonnie Chisenhall as pinch-hitters. Carson was called upon as a defensive replacement for right field in the 10th inning.
"It's a fun way to play," Francona said, "when everybody in that room knows that they've got a chance to be in the game. Sometimes in the American League, you throw nine guys out there and you play. Our guys know that when they show up, they all have a chance to get in and help us win."
That is something that a role player, and career Minor Leaguer, such as Carson can appreciate.
"As long as I'm helping the team doing what they're trying to accomplish," Carson said, "in any way I can, whether it's playing defense, running the bases or getting a hit here or there, that's what I'm here to do. I give Tito credit for getting me in there when he can."
The 32-year-old Carson has played only six percent of his 1,334 professional games in the Majors, and he has spent six of his 12 Minor League seasons at the Triple-A level. He has gone from Staten Island to Sacramento to Columbus, with multiple stops in between, and cups of coffee with the A's, Twins and Tribe.
Indians fans might have been searching the scorecard to find the name of the player walking to the plate in the 11th inning.
Francona did not even think of using a pinch-hitter.
"I really didn't," Francona said. "Sometimes you just stay out of the way."
Good teams need a variety of heroes.
Carson was thrilled to step up on Thursday night.
"That's probably kind of a pinnacle for me at this point in my career," Carson said. "To do it for a playoff team like we have right now, in a win that we needed, like I said, it was tops for me."
Jordan Bastian is a reporter for MLB.com. Read his blog, Major League Bastian, and follow him on Twitter @MLBastian. This story was not subject to the approval of Major League Baseball or its clubs.