Despite Keuchel's strong start, Astros fall in extras
Despite Keuchel's strong start, Astros fall in extras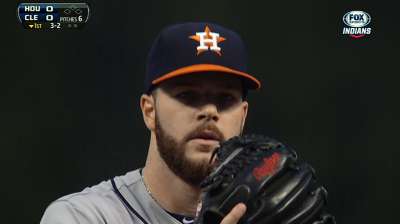 CLEVELAND -- After watching his team come up on the wrong end of another long game, which included another costly gaffe on the bases, Astros manager Bo Porter spoke Thursday night like a man at the height of frustration.
Porter's annoyance came after the Astros played 24 innings and nearly nine hours of baseball against contending teams the past two nights, only to come up short both times. This time, it was Indians outfielder Matt Carson hitting a walk-off, bases-loaded single in the 11th inning to beat the Astros, 2-1, at Progressive Field.
The Astros have lost a season-high six games in a row for the seventh time this season, including the last two in extra innings. They dropped a 13-inning decision to the Reds on Wednesday in Houston and arrived in Cleveland in the wee hours of the morning after playing for five hours and 18 minutes.
"We've had some frustrating stretches," Porter said. "But, again, it's one thing for the other team to beat you. It's another thing to beat yourself. And the last few nights, we should have won these ballgames. A tremendous job by our pitching staff, our bullpen has done a great job and we just squander opportunity after opportunity with poor at-bats and bad baserunning."
The Astros blew a great scoring chance in the 11th inning Wednesday when Jose Altuve inexplicably went from first to third on a single even though Brandon Barnes was standing on third -- a mistake that mystified Porter.
"That's baserunning 101," Porter said.
On Thursday, the baserunning mistake that had Porter fuming came in the 10th, when pinch-runner Jake Elmore was picked off second base by catcher Yan Gomes for the first out of the inning with Jonathan Villar at the plate trying to bunt him to third.
"It's extremely frustrating," Porter said. "It's basic baseball. It's not just knowing better, because you can know what to do, but if you're not doing what it is you're supposed to do, it's not going to help us."
Elmore understood his manager's frustrations and said he was trying to be aggressive, trying to get to third with the bunt play called.
"He put bunt on and you're expecting him to bunt and you're thinking about it and you don't want to get thrown out at third, so then you're trying to get a good lead," Elmore said. "The last thing you want to do is get picked off second like I did."
When asked if the play would be addressed with Elmore, Porter scoffed.
"I'm done with the conversations," Porter said. "Get it done."
Astros reliever Rhiner Cruz (0-2) took the loss, allowing three hits and a walk in the 11th inning. Starter Dallas Keuchel, who had given up 20 hits and 11 earned runs in a combined nine innings in his previous two starts, held the Indians to one run and seven hits and struck out seven batters in seven innings.
"Any time you can limit a good team that's pushing for the playoffs, that's big," Keuchel said. "I knew coming in I had to be conscious of throwing the fastball early. They had some good averages on fastballs early in the count, and I think me and [catcher] Cody [Clark] made a pretty good effort in throwing breaking balls for a strike first time through the order. We had a good game plan going in, and it was about execution."
Keuchel was every bit as good as Indians starter Ubaldo Jimenez, who worked seven innings and allowed six hits and one run while striking out nine batters. Jimenez has an American League-best 1.77 ERA since the All-Star break.
"It was really fun," Jimenez said. "The fun part was that we won. If we didn't win, it wouldn't be fun at all. Houston, they played really hard today. They're not chasing anything right now, but they came out and they played hard.
"The job that we did, it was teamwork. We played good defense, the pitching was great and then timely hitting."
The Astros were 1-for-8 with runners in scoring position, loading the bases on three consecutive singles in the second inning and managing one run on an L.J. Hoes sac fly. They had the bases loaded with one out in the ninth, but Indians closer Chris Perez struck out Brett Wallace and Hoes swinging to end the inning.
"We had so many opportunities with men in scoring position to put the ball in play," Porter said. "We couldn't capitalize on those situations. Then you get a leadoff double and you put the pinch-runner in the game, who should be a good baserunner, and he's picked off on a bunt attempt."
Indians first baseman Nick Swisher went 4-for-4 -- his second four-hit game against the Astros this year -- and scored in the first inning on an RBI single by Jason Kipnis, who followed Swisher's four hits by going 2-for-4 with two double plays.
"Swisher has my number, I guess," Keuchel said. "Maybe I should just intentionally walk him every time he comes up. ... I made mistake pitches, and that's what he's paid to do. But I made some pitches to Kipnis and got myself out of a few jams here and there. The breaking ball was good today, so that really got me out of some key situations."
Brian McTaggart is a reporter for MLB.com and writes an MLBlog, Tag's Lines. Follow @brianmctaggart on Twitter. This story was not subject to the approval of Major League Baseball or its clubs.