Strasburg right on track for Saturday's start
Strasburg right on track for Saturday's start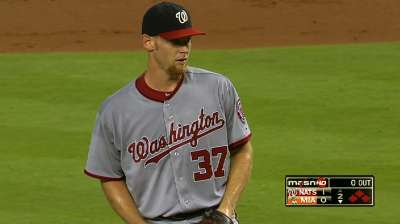 WASHINGTON -- After his scheduled start on Thursday was postponed to Saturday because of right forearm tightness, Nationals right-hander Stephen Strasburg threw on flat ground on Thursday afternoon. Pitching coach Steve McCatty said that Strasburg felt good.
Strasburg initially felt the tightness in his forearm last week in New York and was scratched from a start last Friday. Team doctor Wiemi Douoguih and the Nationals' medical staff cleared Strasburg to start Thursday's series opener with the Marlins, but the right-hander felt the tightness return while playing catch on Wednesday.
"He wanted to pitch [Thursday night]," manager Davey Johnson said. "It was my judgment. I said there's no need. I don't want a guy that has a little discomfort in his arm the day before he pitches. All these games are important, but his well-being is more important than him starting today."
Doctors have told Johnson and general manager Mike Rizzo that Strasburg's injury is not serious. The tightness is not related to the surgically-repaired ligament in Strasburg's right elbow.
"The doctors tell me not to be too concerned," Rizzo said, "so I'm not going to be concerned until I'm told different."
Tom Schad is an associate reporter for MLB.com. This story was not subject to the approval of Major League Baseball or its clubs.