Gio, Harper help Nats trim Wild Card deficit
Gio, Harper help Nats trim Wild Card deficit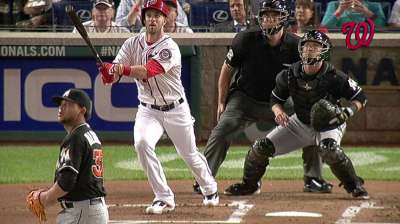 WASHINGTON -- Before the Nationals' 3-2 win over the Marlins on Thursday night, Bryce Harper approached Jayson Werth near the bat rack in the dugout.
The 20-year-old nudged the 34-year-old. Harper was one home run away from reaching 20 this season, and he knew it. He told Werth.
"Well," Werth said, jokingly. "The ball flies in Arizona."
A few hours later, after Ryan Zimmerman singled and Werth walked in the first inning, Harper worked a 2-2 count and launched a hanging slider into the first row in right-center field. Werth jogged slowly around third base, turned back and looked at Harper, who was hustling and grinning ear-to-ear. Werth started smiling, too.
"I think since we've been playing well it's easier to smile when you're winning," shortstop Ian Desmond said. "I get people calling me all the time, 'Oh, you don't look like you're having fun, you're not smiling.' Well, we were getting boatraced every night. Making five errors. I'm not going to be out there smiling. That's just the way it goes. It's not fun unless you're winning, and if you're having fun losing, there's a problem."
The Nationals clinched a winning season with Thursday night's victory and have won 22 of their last 29 games. They also moved to five games behind the idle Reds, who currently hold the second Wild Card spot, with nine games remaining.
"I like being in those pressure situations, those crucial situations, playing for the Wild Card," Harper said. "All year long, you try to play for the playoffs and try to go to that next round. I think now it's getting to that point where we're turning it on and playing the game how we should have played it all year."
However, the win was bittersweet. Denard Span went 0-for-4 to end a 29-game hitting streak, which was the longest in the Major Leagues this season.
But Harper's first-inning homer was all the Nationals needed to slip past the Marlins. With his 20th home run, Harper joined Tony Conigliaro as the only players to hit 20 homers in multiple seasons before their 21st birthday.
"He's only going to get better," Nats manager Davey Johnson said. "I think when you go through a period where you have all this attention and you try to live up to hype ... you try to do too much. I think he's getting over that. I think he's back to enjoying the game, and that's great to see."
Said Harper: "I'm excited about it. We got a long ways to go, we got nine games left and that's what I'm focused on. Hopefully, I can build off that."
After Harper's homer, Marlins starter Henderson Alvarez plunked Desmond on a 3-0 pitch. Desmond calmly jogged to first base, while home-plate umpire Bill Welke issued warnings to both dugouts. That drew an angry reaction from the Nationals and bench coach Randy Knorr, who walked a few steps out of the dugout, yelling and pointing at Welke. Knorr was promptly ejected.
"[Alvarez] obviously intentionally hit him, and to me, that's an ejection," Johnson said. "A warning doesn't do anything. ... When you go on a warning, an errant pitch from one of our guys and I'm gone and the pitcher's gone. I just didn't agree with the warning, and neither did Randy."
However, the warning did not seem to hinder left-hander Gio Gonzalez, who started on his 28th birthday because Stephen Strasburg's scheduled start was pushed back to Saturday.
Gonzalez worked six innings of two-run ball, allowing seven hits and walking two, to pick up his 11th win.
"It's always nice to get a win on your birthday," he said, smiling. "It's almost like a gift to yourself."
Gonzalez worked his way out of a couple of jams in the second inning and limited damage in the sixth. After Justin Ruggiano doubled to bring home Giancarlo Stanton and pull the Marlins to within 3-2, Ruggiano twice tried to steal third base. Both times, Placido Polanco fouled off a pitch and sent Ruggiano back to second. When Ruggiano tried to steal again, Gonzalez spun around and caught him in a rundown, eliminating the potential tying run.
"I was lucky enough to get foul ball, foul ball. I say it jokingly, I set him up," Gonzalez said. "But again, he brought in a run, a big run, but I'm glad I got out of that inning."
Upon Gonzalez's exit, Drew Storen pitched a scoreless seventh inning and Tyler Clippard worked a clean eighth to pave the way for Rafael Soriano, who walked two batters but recorded his 42nd save. Soriano has converted his last 10 save opportunities.
Washington put runners on base in the third, fifth, sixth, seventh and eighth innings, but none of them advanced past second base.
In the end, Harper's historic home run proved to be the difference.
"It's unbelievable, and he's only getting better," Desmond said. "Twenty home runs now, we're going to look back and he's going to be like, 'Oh man, I only hit 20 home runs my first two years?' I mean those days are coming. It's inevitable that those days are coming. I just hope it's here and I hope I get to see it."
Tom Schad is an associate reporter for MLB.com. This story was not subject to the approval of Major League Baseball or its clubs.