Alvarez, Marlins on hook for loss against Nats
Alvarez, Marlins on hook for loss against Nats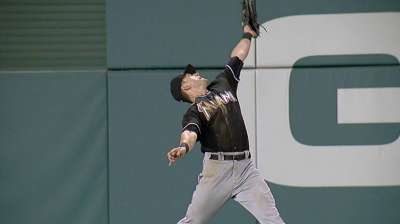 WASHINGTON -- Facing Gio Gonzalez for the third time this season, the Marlins were able to accomplish a first. They pushed two runs across the plate against the Nationals left-hander.
Still, it wasn't enough.
Bryce Harper belted a three-run homer in the first inning, and it provided all the support Gonzalez needed to hand the Marlins a 3-2 loss on Thursday night at Nationals Park.
"That ended up being the game. Three-run home run, that was it," Marlins manager Mike Redmond said. "Unfortunately for us, we've had that scenario happen several times. The good news is that we're in this game. The bad news is we can't get on the other side of them, and get that big hit to take us over the hump and get a big win."
Indeed, the Marlins have had their share of close calls go the other way. They are now 20-33 in one-run games, dropping to 0-7 at Nationals Park on the season.
"We've had our opportunities," Miami catcher Koyie Hill said. "Those things kind of come in bunches. I think everybody is trying to get that big hit, too. That doesn't help."
A South Florida native, Gonzalez improved to 3-0 against the Marlins. Until Thursday, the lefty had not allowed a run in 13 innings against his National League East rivals.
With nine games remaining, the Nationals are pretty much in a must-win situation every game as they are five games out in the race for the second Wild Card. Gonzalez showed why he is a big-game pitcher.
Henderson Alvarez got off to a rough first inning, allowing the three-run blast to Harper. The Miami right-hander did settle, and in five-plus innings, he scattered seven hits and struck out one.
"It's a big game, a must-win game for them," Redmond said. "[Gonzalez] knows how to pitch. He's able to command his offspeed pitches, and he knows what he's doing out there. He just grinded us out tonight."
The loss dropped the Marlins to 2-6 on their final road trip.
Donovan Solano had two hits and scored a run, while Ed Lucas added three hits and an RBI for the Marlins.
Washington's Denard Span went 0-for-4 and had his 29-game hitting streak snapped. Span struck out against A.J. Ramos in the seventh inning, receiving a nice ovation from the 25,945 on hand as his impressive stretch came to a close.
Redmond and Span were teammates in Minnesota, and the skipper praised the Nationals center fielder for his streak.
"Denard and I played together for quite a few years," Redmond said. "He's a solid player, a great center fielder. I know him as a tremendous teammate. To go out there and put together 29 games, that's great. I know how hard he's worked throughout his career to better himself as a leadoff hitter. That's a really nice streak. Those things don't really happen very often."
The Marlins struck quickly off Gonzalez, pushing across a run two batters into the game. Solano led off with a double and scored on Lucas' single to center.
But the Nationals quickly responded, courtesy of Harper's three-run homer on a 2-2 offering.
Ryan Zimmerman singled and Jayson Werth walked, setting the stage for Harper's blast, which gives him 20 home runs on the season.
Harper has four home runs against Miami this year -- all at Nationals Park -- and eight in his career.
There was some drama in the first inning. After Harper's homer, Ian Desmond was plunked by a 95-mph fastball on a three-ball count. Desmond immediately headed to first, and home-plate umpire Bill Welke issued warnings to both benches.
Each team had differing views as to whether Alvarez threw at Desmond on purpose.
"It was a 3-0 count, that ball, he just lost it," Redmond said. "He obviously got up and in. That ball just got away from him."
Harper's homer was just the second long ball allowed by Alvarez this season. But a year ago, while Alvarez was with Toronto, Harper connected on a home run.
Nationals manager Davey Johnson believes Alvarez's hit by pitch was intentional.
"Obviously, he intentionally hit him, and to me, that's an ejection," Johnson said. "The warning doesn't do anything. This is the same guy that in Toronto hit Harp in the back after he hit a home run. But it's real obvious when you give up a home run and then go 3-0 on a guy and drill him. To me, you're throwing at somebody on purpose and I think the proper thing is to eject him."
The Marlins closed their gap to 3-2 off Gonzalez on back-to-back doubles by Giancarlo Stanton and Justin Ruggiano to open the sixth inning. Twice with Adeiny Hechavarria at the plate, Ruggiano had huge jumps and would have stolen third, if not for a foul ball. When he tried it a third time, Gonzalez was ready, and picked off Ruggiano. Technically, it was ruled a caught stealing.
"He got a little bit too aggressive for the situation, being that he was already in scoring position," Redmond said. "You like the aggressiveness, but at the same time, too, we've got to make sure we make it."
Joe Frisaro is a reporter for MLB.com. He writes a blog, called The Fish Pond. Follow him on Twitter @JoeFrisaro. This story was not subject to the approval of Major League Baseball or its clubs.