Slumping Posey to keep getting opportunities
Slumping Posey to keep getting opportunities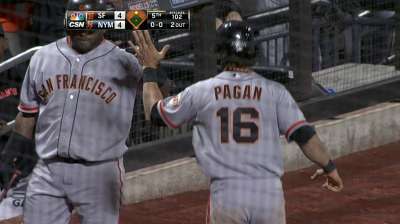 NEW YORK -- Giants manager Bruce Bochy's response to Buster Posey's batting slump is to give the reigning National League Most Valuable Player more plate appearances. No benchings, no mental rests, just an occasional day off following a night game.
Slump is a word rarely linked to Posey. But he's indeed struggling at the plate. Posey is batting .048 (1-for-21) with one RBI in six games on this trip. He hasn't driven pitches with his usual frequency, having collected eight extra-base hits (six doubles, two home runs) since the All-Star break. Posey is also playing with a small fracture on the tip of his right ring finger.
Bochy believes that Posey is partly a victim of high expectations.
"With Buster, the bar is set so high," Bochy said Thursday. "When he does make an out, because of who he is, you go, 'What's going on with Buster?' But he feels good."
Bochy acknowledged that Posey hasn't duplicated the second halves he sustained in 2010 (.283 batting average, 29 extra-base hits) or 2012 (.385 batting average, 38 extra-base hits, 1.102 OPS). But Bochy maintained complete faith in his two-time All-Star catcher.
"He's probably as hard on himself as much as anybody," Bochy said. "You're going to get the best you have from him, no matter what the situation."
Chris Haft is a reporter for MLB.com. This story was not subject to the approval of Major League Baseball or its clubs.