With full arsenal working, Arrieta baffles Crew
With full arsenal working, Arrieta baffles Crew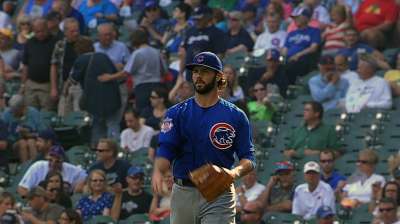 MILWAUKEE -- Jake Arrieta's extended audition for the Cubs' 2014 rotation went very well Thursday.
Nate Schierholtz hit a two-run homer and Luis Valbuena and Brian Bogusevic each added solo shots to back Arrieta, who gave up three hits over seven innings in the Cubs' 5-1 victory over the Brewers at Miller Park, snapping a five-game losing streak.
Acquired from the Orioles in July in the Scott Feldman deal, Arrieta walked leadoff batter Norichika Aoki, then retired 11 straight before Aramis Ramirez singled with two outs in the fourth. The right-hander retired the next seven batters he faced before Carlos Gomez spoiled the shutout bid with a leadoff home run in the seventh on an 0-1 pitch. Two outs later, Jeff Bianchi doubled for the third hit off Arrieta.
"Everything was working really, really well," Cubs manager Dale Sveum said. "He hung one cutter to Gomez, but other than that, there was weak contact. ... That was a pretty impressive outing."
This was Arrieta's eighth start with the Cubs, and it was his longest outing since he threw seven shutout innings against the Cardinals on Aug. 16.
"He was throwing filthy stuff," Gomez said of the right-hander. "The fastball was explosive, had good sink. He commanded the curve really good. He's got good stuff. I don't know why he was never more successful most of his career. This guy's going to be good."
The emphasis was on keeping the ball down and having command of his pitches.
"I told [pitching coach Chris Bosio] after the game, I feel like I just threw my pregame 'pen, and I could've gone another 100 pitches. That's how good I felt today as far as controlling the game and my effort," Arrieta said.
The knock on the right-hander has been his lack of command, but he not only showed he could control his cutter/slider and two-seam fastball, but also had a good curveball.
"You have to get that [command] established as early as possible and not allow hitters to eliminate pitches, and today they weren't able to do that," Arrieta said. "You saw a lot of below-average swings and a lot of guys were just off balance and not able to anticipate what I was coming at them with. That's one of the big things I have to do as a starter to try to pitch deep in the games is keep them off balance and get them to pitch to contact early."
With the win, the Cubs wrapped up their season series against the Brewers, 6-13, and now are 24-46 against the National League Central and 40-43 against everyone else.
Valbuena gave the Cubs a 1-0 lead with his career-high 12th home run with one out in the first.
"I want to finish strong," Valbuena said. "I've tried to do the best I can to show everybody I can be [the starter at third]."
The Cubs missed a chance to add on in the second when they loaded the bases with one out against Kyle Lohse, who struck out Arrieta and got Starlin Castro to ground out. With one out in the third, Anthony Rizzo singled to set up Schierholtz's 21st home run, also a career high, which opened a 3-0 lead.
Junior Lake singled with one out in the sixth and reached third on rookie Logan Watkins' third hit of the day combined with a throwing error by Burke Badenhop. Lake then scored on Arrieta's sacrifice bunt. Bogusevic connected leading off the ninth with his third career pinch-hit home run.
The Cubs ended an 11-game road trip on a positive note, and now return to Wrigley Field on Friday for their final homestand, beginning with the NL East-leading Braves.
"We get the three best teams in the National League coming up," Sveum said about playing the Braves and Pirates at home, then finishing in St. Louis. "The competition doesn't get easier. It's going to be tough, but we're at home, and hopefully we play better at home."
The Cubs haven't done that, compiling a 29-46 record at Wrigley Field compared to 35-43 on the road.
"You just grind it out, that's all you can do," Sveum said. "Guys are grinding and doing the best they can, and we'll see what happens."
Arrieta likes what he's seen so far.
"Since being here, I've seen a lot of good baseball and some sloppy baseball," he said. "Every team goes through that. It's just a matter of how do we minimize the mistakes and costly errors. It's a simple formula. ... I want to be one of those guys who some young guys look at and say, 'This guy knows how to do it the right way.' It's just a matter of keeping that hungry mindset and rolling that over into next year. We're out of it, but a lot of good things can happen next year. Guys can show they're hungry for a winning team. If we're all on board with that, we're going to be good going into next year."
Carrie Muskat is a reporter for MLB.com. She writes a blog, Muskat Ramblings, and you can follow her on Twitter @CarrieMuskat. This story was not subject to the approval of Major League Baseball or its clubs.