Lohse overpowered by Cubs in frustrating finale
Lohse overpowered by Cubs in frustrating finale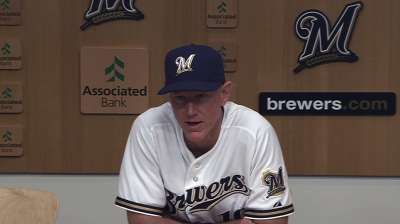 MILWAUKEE -- Kyle Lohse took the loss in the Brewers' 5-1 defeat at the hands of the Cubs on Thursday at Miller Park, but he certainly didn't feel as if the blame was with him.
"Not a whole lot of it was me," Lohse said. "When you've got an umpire that says that your grumpy face is going to cost you strikes, you've got issues. I wasn't as consistent as I want to be, but I made a lot of really good pitches, and I guess I looked funny out there and wasn't going to get the calls."
Lohse was referring to a comment allegedly made by home-plate umpire Chad Fairchild to Brewers catcher Martin Maldonado after Lohse allowed his second home run of the game to Cubs right fielder Nate Schierholtz in the third inning. Lohse didn't learn of the alleged remark until he was lifted after the fifth inning with the Brewers trailing, 3-0.
"I didn't hear it firsthand, or I wouldn't have lasted five innings," Lohse said.
Schierholtz's two-run homer -- coming after Luis Valbuena put the visitors up with a solo shot in the first inning -- supplied the Cubs a three-run lead, more than they would need with Jake Arrieta dealing on the mound.
"The Schierholtz at-bat, there were a couple pitches in there that changed the whole complexion of the game, really," Lohse said. "You know, let us play the game. Don't let egos get in the way. There's other things going on out there. We're trying to play the game. Just let us play.
"I don't think I did anything to show him up. I had a lot of calls that I thought could've went my way. Obviously, it's frustrating, but my job is to go out there and make pitches. I can't do anything about what's called or not. It's just hard to adjust to something that's inconsistent."
Lohse was just one of the Brewers who was frustrated on Thursday. After Logan Schafer took a called third strike against Cubs closer Kevin Gregg to end the game, he spiked his helmet and was restrained by other umpires as he yelled at Fairchild.
Carlos Gomez, who supplied the Brewers' lone run with a homer in the seventh inning, was also caught looking in the ninth, and he came to Lohse's defense.
"He missed a couple pitches on Lohse today," Gomez said of Fairchild. "Key pitches. Those are pitches that killed the inning right there. You know, it's tough. A tough game for the umpire today. It's like that sometimes. Sometimes they are consistent, sometimes they're not. ... The umpires were terrible today."
The home runs were the 25th and 26th allowed by Lohse this year, the most since he gave up 28 in back-to-back seasons with the Twins in 2003-04.
"You've got to make pitches," Lohse said. "There were a couple pitches -- the first one, Valbuena, I missed location and threw a pitch that came right back into him. I've still got to make a pitch, and they put a good swing on it."
The right-hander allowed three earned runs on seven hits with a walk and four strikeouts over his five frames. Lohse labored through the opening three innings, throwing 72 pitches. He finished with 100 pitches, 62 for strikes.
"He struggled with his command," Brewers manager Ron Roenicke said. "A lot of pitches in five innings. The two home runs certainly hurt. One a cutter, the other a fastball. He struggled a little bit with his command today."
Arrieta, on the other hand, was nearly unhittable through six innings. The right-hander held the Brewers to two baserunners through the first six frames, a leadoff walk to Norichika Aoki in the first inning and a two-out single from Aramis Ramirez in the fourth. Gomez finally got to Arrieta in the seventh with his second home run of the series and his career-high 21st of the season, a leadoff shot to straightaway center field.
Jeff Bianchi also doubled in the seventh, but Arrieta stranded him at second base. Arrieta threw just 88 pitches -- 65 for strikes -- while baffling the Cubs over seven innings. He allowed the one earned run on three hits, while walking one and striking out five.
"You have to get that established as early as possible and not allow hitters to eliminate pitches, and today they weren't able to do that," Arrieta said. "You saw a lot of below-average swings and a lot of guys were just off balance and not able to anticipate what I was coming at them with. That's one of the big things I have to do as a starter to try to pitch deep in the games is keep them off balance and get them to pitch to contact early.
"I told [pitching coach Chris Bosio] after the game, I feel like I just threw my pregame 'pen. I could've gone another 100 pitches, that's how good I felt today as far as controlling the game and my effort."
Arrieta's effort was good enough to drop the Brewers to 17-34 in day games and 14-35 in series finales. They are also 2-7 in the final contest of four-game sets, including an 0-5 mark since the All-Star break.
The Brewers did, however, take three of four games in the series and finished the season with a 13-6 record against their National League Central rivals. Milwaukee enters the weekend series against the Cardinals with a 5-2 record on its final homestand of the year.
"I'm looking forward to the end and just watching these guys continue to play well," Roenicke said. "I'm hoping, not just this series, but the two on the road [against the Braves and Mets], that we continue to play good baseball and finish off the whole season with a good feeling on young guys coming through and the veterans finishing strong."
Kevin Massoth is an associate reporter for MLB.com. This story was not subject to the approval of Major League Baseball or its clubs.