Pollock makes most of opportunity to stick in bigs
Pollock makes most of opportunity to stick in bigs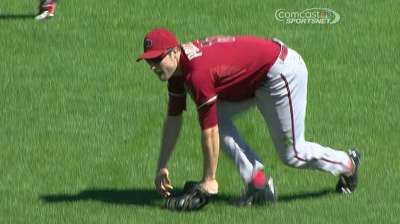 PHOENIX -- When A.J. Pollock reported to camp this spring, he knew the odds of him making the Opening Day roster as the club's fifth outfielder were slim. But after Adam Eaton suffered an elbow injury that landed him on the disabled list before the season even started, Pollock suddenly had an opportunity to prove himself.
Now six months later, that's exactly what the 25-year-old has done as he has stayed up with the big league team for the entire 2013 season, making his impact felt at the plate and even more so in the outfield.
"Coming into Spring Training, I wasn't sure it was going to happen, I was reading between the lines and I thought I was going to [Triple-A] Reno," Pollock said. "My goal was to just make some noise and hope I'd get called up at some point. It was pretty fortunate for me that a couple things happened and I was able to stick the whole year."
Pollock's most substantial contributions this year, of course, have come with him ranging in all directions to make plays in center field. According to FanGraphs, his ultimate zone rating -- a stat that factors in all aspects of a player's defensive prowess -- is second best in the Major Leagues at 18.2, trailing only Carlos Gomez of the Brewers.
"He's our best center fielder, he just goes and gets the ball," D-backs manager Kirk Gibson said. "He's a good player. We knew that when we drafted him, and he's been good everywhere he has went. He's got a great attitude and he's a sponge. He's not looking at learning tomorrow, he's looking at learning today."
Offensively, even though he is batting a middle-of-the-road .259, Pollock has been consistent throughout the season, which is fairly noteworthy for a player in his first full big league season who doesn't receive at-bats as consistently as he did in the Minors.
"You're forced to learn on the fly here," Pollock said. "If you don't make adjustments up here, it's going to show. It has been a learning experience for me because it's tough to know what the big leagues are like unless you're up here. In the Minor Leagues, you're never really in these situations where you're coming off the bench in big pinch-hit situations."
With a solid 2013 under his belt, Pollock is now aiming for bigger and better things next season.
"It's been a really great year, but I'm always going to look to get better," he said. "There's always something that can fire you up and make you want to prove yourself even more."
Tyler Emerick is an associate reporter for MLB.com. This story was not subject to the approval of Major League Baseball or its clubs.