Capuano hopes to be healthy for postseason
Capuano hopes to be healthy for postseason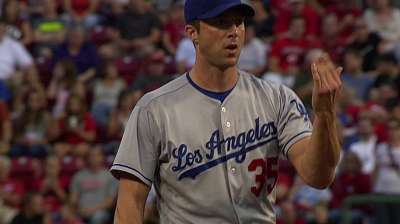 PHOENIX -- Chris Capuano, already on the bubble of what shapes up as a crowded postseason roster, hasn't given up on being a participant, even with his ill-timed groin strain.
On Wednesday, Capuano had a platelet-rich plasma injection, which he said will "marinate" for 48 hours before he tests it.
"We tried to be aggressive, but I felt it again off the mound, so we'll try this," Capuano said. "By the end of the season, I hope to be 100 percent and give them the option. I had good results with [a PRP injection] with my calf earlier."
Capuano said even if he isn't 100 percent to open the first round of playoffs, he plans to throw simulated games or work out during the Dodgers' Arizona instructional league to be ready if he's needed at any point of the postseason.
"My hope is to be throwing well and be available and see what happens," he said.
Capuano was about to be bumped as the fifth starter by the signing of Edinson Volquez when he left a Sept. 6 start in the second inning with a strain of the left groin and hasn't pitched in a game since.
Ken Gurnick is a reporter for MLB.com. This story was not subject to the approval of Major League Baseball or its clubs.