D-backs want to increase Putz's work in spring
D-backs want to increase Putz's work in spring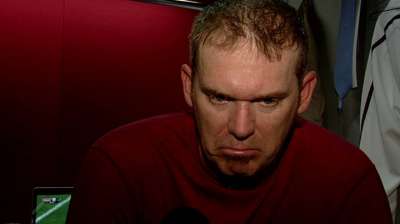 PHOENIX -- In each of his last two Spring Trainings, D-backs reliever J.J. Putz has worked just 5 1/3 innings of Cactus League action. But after two injuries -- one fluky and one structural -- forced him to miss roughly half the season this year, the 36-year-old will have his spring workload ramped up come 2014 as the club tries to keep the veteran healthy.
"We'll take a little different attack in Spring Training -- he'll throw a little more," D-backs manager Kirk Gibson said. "Just trying to get more arm strength. I think in the past he was kind of in a different phase in his career where he didn't need to as much. It just seems like when he throws more, he gets stronger. So he'll be in more games and stuff before the season."
After saving 77 games and pitching more than 100 innings between 2011 and 2012, Putz has experienced a down year in 2013, appearing in just 36 games and losing the closer role to Brad Ziegler due to an elbow strain, a dislocated little finger and five blown saves in 11 chances. Still, with Putz's ERA this season at 2.35, Gibson believes the reliever can return to form next year and provide the D-backs with the stable veteran back-end arm they had grown accustomed to.
"There's no reason he can't," Gibson said. "He's on his way back. When he got hurt, he had thrown two days in a row and he had the best arm strength and stuff he had all year."
Tyler Emerick is an associate reporter for MLB.com. This story was not subject to the approval of Major League Baseball or its clubs.