Roenicke won't rush Segura back
Roenicke won't rush Segura back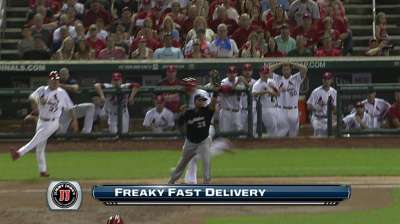 MILWAUKEE -- The Brewers are prepared for the possibility that All-Star shortstop Jean Segura has played the final game of a fine season.
Segura was out of the lineup as expected on Thursday, sidelined by a right hamstring strain he suffered while scoring from second base the night before. The strain is mild, but with only 10 games in 10 days left on the schedule after Thursday, time is running short.
"He's day to day. He's sore today," manager Ron Roenicke said. "And I say day to day, but that doesn't mean tomorrow. … We're not going to be dumb about this. I'd like to get him back out there, but not at the risk of putting him out there too early."
If Segura is able to play again, it might be during the team's final series against the Mets in New York.
Or, he could report for duty on Friday feeling great, Roenicke said.
Segura's injury could cost him a chance to be the first Brewer to lead the National League in stolen bases since Scott Podsednik in 2004. Segura has 44 steals this season, five more than the Mets' Eric Young Jr. entering Thursday. Carlos Gomez was fourth on that list with 36 steals.
Segura is batting .296 with 12 home runs and 49 RBIs, though he's hit just .245 with one home run since representing the Brewers in the All-Star Game.
"He should [be happy] with the bases, the defense," Roenicke said. "The only thing is, he is going to get better driving in runs. I'm not satisfied, he's not satisfied with where he is on that. If you're strictly a leadoff batter, it's different, because your opportunities are less, but he was second in the lineup this year and he's had some opportunities."
Jeff Bianchi played shortstop in place of Segura on Thursday. Yuniesky Betancourt is also an option while Segura is down.
Adam McCalvy is a reporter for MLB.com. Read his blog, Brew Beat, and follow him on Twitter at @AdamMcCalvy. This story was not subject to the approval of Major League Baseball or its clubs.