Niese strong, but Mets edged by Giants
Niese strong, but Mets edged by Giants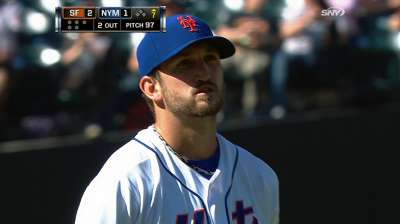 NEW YORK -- When Mets shortstop Ruben Tejada broke his right leg during Wednesday night's loss to the Giants, manager Terry Collins turned to his bench coach, Bob Geren, and all but threw his hands up in the air. What else could go wrong? How much more must these Mets endure?
In the final month of another lost season, all Collins and his decimated roster want are reasons for optimism. So it was a welcome reprieve for them when Jon Niese, the Mets' Opening Day starter, continued his recent strong run with seven solid innings Thursday afternoon in a 2-1 loss to the Giants.
"He's been very, very impressive," Collins said. "The ultimate goal right now, in the next 10 days, is to make sure he feels good when he leaves here."
Though Niese was not at his vintage best at Citi Field, he held the Giants to just two runs in seven innings, striking out four. The left-hander's primary problem was counterpart Madison Bumgarner, who limited the Mets to one run -- a Daniel Murphy RBI single -- in seven innings of his own.
It is worth noting, however, that Niese nearly matched Bumgarner pitch for pitch. Since returning from the disabled list last month, Niese has delivered five quality starts in eight attempts, going 4-2 with a 3.06 ERA. Considering Matt Harvey's uncertain status heading into next season and Zack Wheeler's youth, it is not a stretch to think Niese will again take the mound for the Mets come Opening Day.
To avoid re-injuring his rotator cuff in the future, Niese said, he will continue the litany of shoulder strengthening exercises that he began doing in his rehab this summer. Though Niese's offseason schedule will not change to any great extent, strength work will remain a focal point for him for the rest of his career.
"It's probably going to have to [be]," Niese said. "It's just keeping the shoulder strong, trying to prevent injury, trying to prevent that rotator cuff thing from ever happening again."
All of Niese's trouble Thursday came in the fourth inning, when the Giants rapped out three consecutive hits against him. The third of those, a single by Juan Perez, drove in San Francisco's first run, before Ehire Adrianza tacked on an RBI fielder's choice. The Mets did rally late, putting runners in scoring position in the sixth, seventh and ninth innings, but could not push across the tying run.
Such has been the trend for the shorthanded Mets, who hardly resemble the bunch that backed Niese in a rousing victory on Opening Day. Only three of the 25 players on New York's April 1 roster stuck with the big club all season long; the other 22 were either traded, spent time on the disabled list or at Triple-A Las Vegas, or were designated for assignment.
New York's poor September has masked the fact that, for much of the season, the Mets remained surprisingly competitive. Almost universally picked to finish in fourth or fifth place, the Mets sat within spitting distance of second for most of the first half, and still have a chance to avoid a fourth-place finish for the first time in five years.
To do so, they will need their core players to perform well down the stretch. They will need David Wright, who is tentatively on track to return Friday, to pick up where he left off when he landed on the disabled list seven weeks ago. They will need Wheeler to finish strong, whether the rookie has one start remaining or two. And they will need Niese to continue his strong late-season run, giving him confidence heading into the winter.
"If I finish the season healthy, coming into Spring Training next year will be a good feeling," Niese said. "I had a rough patch there where I had some rotator cuff problems, but rehabbing got that behind me and it feels fresh now."
Anthony DiComo is a reporter for MLB.com. Follow him on Twitter @AnthonyDicomo. This story was not subject to the approval of Major League Baseball or its clubs.