Giants ride Bumgarner to series win vs. Mets
Giants ride Bumgarner to series win vs. Mets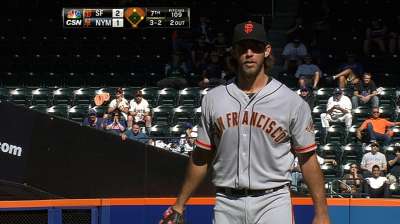 NEW YORK -- Thursday was rookie hazing day for the Giants, who defeated the New York Mets, 2-1, at Citi Field.
In an odd way, the events are relevant to each other.
Veterans forced Ehire Adrianza, Jake Dunning, Heath Hembree, Michael Kickham, Roger Kieschnick, Johnny Monell, Nick Noonan and Juan Perez to dress -- that's using the term loosely -- as the "Naked Cowboy." To resemble him, the rookies toted guitars and wore boots, hats and white bikini briefs. Left-hander Javier Lopez, one of the leaders of the annual plot to humble the rookies, explained that the departure from the usual cross-dressing outfits was an homage to New York.
"The Naked Cowboy is one of the iconic figures in Times Square," Lopez said.
Based on his age, Madison Bumgarner should have been embarrassing himself with the rest of the rookies. At 24, he's younger than all of them except Adrianza.
Bumgarner instead spent the afternoon cementing his place among the National League's elite pitchers. He allowed four hits in seven innings and faltered only in the fourth, when Josh Satin doubled and scored New York's lone run on Daniel Murphy's single.
Much already has been said and written about Bumgarner's unusual maturity and poise for someone his age. Occasionally it's worth repeating his youth, particularly when he reaches statistical milestones that measure his excellence.
Bumgarner (13-9) surpassed the 200-inning level (he has 201 1/3) for the third year in a row. He struck out 10, marking his 13th career double-digit strikeout game and leaving him one short of 200 for the season. Assuming Bumgarner strikes out at least one more batter Wednesday against the Dodgers in his next projected start, he'll become just the fifth left-hander in franchise history to reach 200 in a season.
Bumgarner has allowed three earned runs or fewer in 19 consecutive games, the longest such streak by a Giants pitcher since Tim Lincecum also had 19 in a row from Aug. 16, 2007-June 11, 2008. The last Giants starter to throw 19 successive games with three earned runs or fewer allowed in a single season was Ed Whitson (June 7-Sept. 25, 1980).
Many analysts who tire of the term quality start -- an outing of six innings or more with three earned runs or fewer allowed -- have embraced the super- or ultra-quality start. That requires a pitcher to work at least seven innings and yield two earned runs or fewer. Bumgarner has made 15 such starts in 31 appearances, including his performance against the Mets.
Bumgarner's credentials could prompt discerning National League Cy Young Award voters to bestow a few fourth- or fifth-place votes upon him.
"You look at the year he's had, no question he should get a few votes," Giants manager Bruce Bochy said.
As the Giants left the field to the ringing cheers of thousands of transplanted, vacationing or remote fans in New York, Bochy gave Bumgarner an extra pat on the back. Bochy explained that Bumgarner's competitiveness inspires extra appreciation.
"He's got that fire in the belly, every start," Bochy said.
Bumgarner's toughness showed most this time when Wilmer Flores smacked a comebacker that caromed off the pitcher's left shin toward first baseman Buster Posey, who stepped on the bag to end a two-on, two-out jam in the sixth. Asked how his leg felt, Bumgarner said, "It felt a lot better when I got him out."
Bumgarner appreciated clearing the 200-inning barrier.
"It's what all starters are trying to do," he said. "I'm trying to get to 200 every year."
Bumgarner received assistance from third baseman Joaquin Arias, who assisted on back-to-back putouts on difficult plays to end the fourth inning and strand Murphy on second base. Perez contributed a fourth-inning RBI single among his career-high three hits. A resident of the Bronx -- Yankee Stadium's neighborhood -- Perez had numerous relatives and friends in the stands.
"It's like a dream come true," Perez said. "It's a moment I'll never forget."
That probably included putting on the goofy costume he had to wear for a few hours.
Chris Haft is a reporter for MLB.com. This story was not subject to the approval of Major League Baseball or its clubs.