Cards hopeful Adams can return Friday
Cards hopeful Adams can return Friday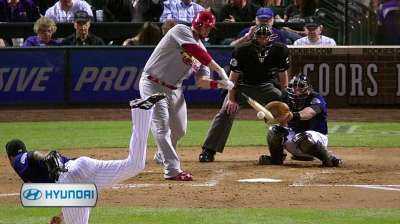 DENVER -- Cardinals manager Mike Matheny feared he may lose first baseman Matt Adams for more than a few days as of Wednesday night.
After Allen Craig sprained his left foot on Sept. 4, St. Louis was already running low on options at first base. It became an even more pressing issue when Adams left Wednesday's game in the bottom of the seventh with shooting pain in his right elbow that prevented him from swinging a bat.
But Matheny could breathe a sigh of relief Thursday morning as Adams said the elbow felt "better than what I expected" the morning after.
"Real good news," Matheny said. "We were obviously concerned and Allen down puts a lot of need for us to have Matt ready."
Adams sported a red neoprene sleeve on his right arm, his elbow taped up beneath it and said he will receive a brace that will keep him from overextending the elbow Friday. According to Matheny, Adams also had no trouble swinging a bat before Thursday's series finale against the Rockies.
What Adams described as a "tingling" sensation had also subsided.
"It's a good sign," Adams said. "It's all better now. Just continue to follow the treatment and go from there."
That treatment is trying to lessen inflammation in his right elbow and Adams said the pain isn't as bad as it was last year, when he had surgery to remove bone spurs from the same elbow with Triple-A Memphis. He's hoping that means treatment alone will be enough to let it fully heal in the offseason.
"Hopefully, we don't need to go the surgery route," Adams said. "Hopefully, it's just rest and make sure we do the right treatment to be able to knock it out of there."
Matheny said Adams has battled through pain in his right elbow for several months, but hoping he'll be back in the lineup Friday and would be available off the bench Thursday.
"I think he's been managing it for a couple months," Matheny said. "I can't remember the last time I saw him swing and miss and not do something to his elbow. So, they're going to continue to look at it. I think he also realizes right now that you just got to push [through it]."
Ian McCue is an associate reporter for MLB.com. This story was not subject to the approval of Major League Baseball or its clubs.