Weary Dodgers 'pen without Withrow in Arizona
Weary Dodgers 'pen without Withrow in Arizona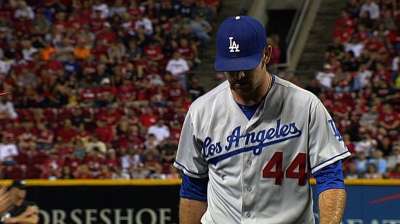 PHOENIX -- Stephen Fife's short start Wednesday night left 5 2/3 innings of work for a Dodgers bullpen that is without rookie Chris Withrow, who left the club to be with his wife for the birth of their first child.
Although expanded rosters have swelled the Dodgers' bullpen to 11, manager Don Mattingly hoped Thursday starter Ricky Nolasco goes much deeper than the 1 1/3 innings of his last start.
"We needed as much from the team aspect as anything," Mattingly said. "We had to use some guys last night we didn't want to use."
Mattingly used six relievers in the 9-4 loss Wednesday night. Carlos Marmol entered in the third inning and pitched 1 2/3 scoreless innings. Brandon League followed with 1 1/3 scoreless innings. Ronald Belisario was credited with retiring only one batter, but he made 20 pitches while allowing a career-high five runs. Brian Wilson lowered his ERA to 0.96 with a scoreless inning. Paco Rodriguez and Peter Moylan also pitched.
Withrow has put himself in position for postseason roster consideration by striking out 38 with only nine walks in 29 2/3 innings.
Ken Gurnick is a reporter for MLB.com. This story was not subject to the approval of Major League Baseball or its clubs.