Hart willing to take pay cut to stay with Crew
Hart willing to take pay cut to stay with Crew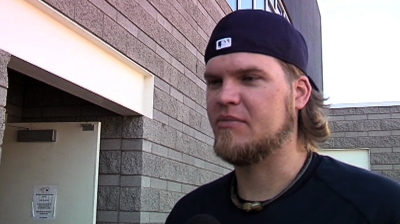 MILWAUKEE -- Free-agent-to-be Corey Hart made clear Thursday that he wants to re-sign with the Brewers and would take a significant pay cut to make that happen. He expressed optimism that the only franchise he's known will take a chance on a player coming off double knee surgery.
"I've told them I would be very generous to stay here," Hart said. "I wouldn't sit there and ask for anything that is outlandish. I would take a discount to stay here, because I think I owe it to them to stay here and be a cheaper player, because -- nobody wants to play for free -- but I've basically sat there and watched all season. I think I owe it to them and the fans to come back. That's kind of what we're hoping for, but at the same time, you don't know what's going to happen."
He added: "If it's up to me, I would stay here. I think we're leaving it up to them -- if it's something they want."
Hart's health remains the most significant question mark. He averaged 29 home runs and 83 RBIs per season from 2010-12, but missed all of 2013 after undergoing surgery on his right knee in January and surgery on his left knee in July for an issue that developed during rehab.
He has a follow-up appointment next week in Los Angeles with Dr. Neal ElAttrache, the Dodgers physician who performed Hart's second surgery, during which Hart expects to get clearance to begin running. He is aiming to be back in baseball shape in November, before December's Winter Meetings, so he can send video of his workouts to teams or try out for clubs interested in seeing him perform in person.
Doctors have told Hart, who will turn 32 before Opening Day, that he will make a full recovery and could play 5-6 more years if he chooses.
Hart's strong preference is to re-sign with the Brewers, who drafted him as a first baseman in the 11th round in 2000. He subsequently moved to third base, then to right field, becoming a Brewers mainstay midway through the 2006 season and making National League All-Star teams in 2008 and '10.
In 2012, Hart moved back to first base to help the Brewers overcome injury issues, and he hit 30 home runs. He earned $10 million in 2013 and was supposed to be the everyday first baseman before his knee issues arose.
"We've not really had any discussions, but I've told them numerous times that obviously I'll be healthy and I'd like to stay a Brewer and help this team out," Hart said. "They have a lot of good young players, but this team needs a veteran presence, and I'd like to be one of those guys. I've told them, and I think they want me. I just don't know where that's at. They've hinted, but it's early, and coming out of knee surgery, I'm sure they want to see me run first before they actually talk to me."
First base appears wide open for the Brewers. They traded for Juan Francisco in June and he flashed promising power, but entered Thursday in a brutal slump (seven hits in his last 56 at-bats, with 29 strikeouts). Mat Gamel is enduring a second straight season lost to ACL surgery. Budgetary restrictions could hamper a run at a free agent like Mike Napoli or Justin Morneau.
Hart dropped by Miller Park this week to visit teammates. He conceded that if the Brewers go in a different direction at first base, this could be his final visit to the home clubhouse.
"At the same time, I'm pretty optimistic I'll be back," Hart said. "That's what we're hoping for. If I'm not, I'll see these guys again, but at the same time, I'm kind of going forward as [if] I'll be healthy and I'll be back."
Adam McCalvy is a reporter for MLB.com. Read his blog, Brew Beat, and follow him on Twitter at @AdamMcCalvy. This story was not subject to the approval of Major League Baseball or its clubs.