Dickerson's walk-off triple ends 15-inning marathon
Dickerson's walk-off triple ends 15-inning marathon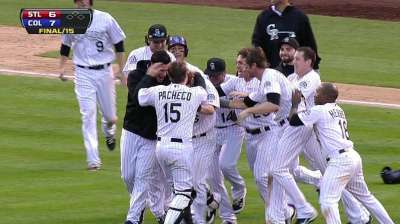 DENVER -- Rookie Corey Dickerson made a memory Thursday that will always be special. Todd Helton has been around 17 seasons, yet will remember the day for a career first.
It was a long, but happy day for the Rockies, who used Dickerson's second RBI triple of the game to win, 7-6, over the National League Central-leading Cardinals in the second-longest game in Coors Field history -- 15 innings -- in front of 33,258.
Helton tied the game with a leadoff homer in the bottom of the ninth. Been there, done that, frankly. The homer was off Edward Mujica, who struck out Helton with the bases loaded to end the Cards' 4-3 victory Wednesday night.
But as much as the homer -- his 14th of the season and 368th of a career that'll end next weekend -- made the Rockies' day, Helton will remember an odd play at the end of the top of the first. After starting pitcher Roy Oswalt made a pickoff throw, Helton faked the return throw, then tagged Matt Carpenter, who had strolled off the bag to dust off his uniform.
"It had never worked, that was the first time," Helton said. "Five or six times, I've given it a half-hearted effort. I can't believe it worked."
There was nothing half-hearted about the effort of the Rockies (70-84), who are in the National League West basement, but managed a split of four games with the Cards (89-64), whose lead over the Pirates in the Central was reduced to one game. Dickerson was one of many players from the depleted Rockies team who played as if they were fighting for a playoff spot instead of playing out the string.
"We had a lot of great performances, a lot of guys stepped up, and some guys were a little out of their element," Rockies manager Walt Weiss said.
Dickerson was thrust into the No. 3 spot in the order due to the wrist and forearm injuries that NL batting leader Michael Cuddyer suffered Wednesday night. Charlie Blackmon and Charlie Culberson, receiving starts in the outfield due to injuries to left fielder Carlos Gonzalez (sprained right middle finger) and center fielder Dexter Fowler (twisted left knee), each had four hits.
Left-hander Drew Pomeranz, a starter who is coming off an injury and just pitching innings as they come available, threw scoreless ball in the 11th and 12th. Rookie Rob Scahill (1-0) intentionally walked the bases loaded with one out in the top of the 15th before forcing a Pete Kozma double-play grounder.
"We may be out of it, but we're going to go out and try to make it difficult," Scahill said. "We're not going to roll over."
Some did well in familiar roles. For example, Troy Tulowitzki, who has battled various bumps this year, hit his 23rd homer and first since Aug. 20.
Helton's 588th career double and Yorvit Torrealba's RBI single were part of a two-run second against Cards starter Michael Wacha, who also gave up Tulowitzki's homer.
But another injury cropped up. Catcher Torrealba, starting because Wilin Rosario is nursing a right calf strain, came to the park with a back flareup, but caught 14 innings.
Dickerson's triples were timely. In the top of the eighth he had David Freese's double in his glove, but hit the wall and lost it, and the Cards took a 5-4 lead. But Dickerson tied it with his first RBI triple in the bottom of the eighth, with two outs against Trevor Rosenthal.
In the 15th, Dickerson's triple off Fernando Salas (0-3) to right followed DJ LeMahieu's single. Second baseman Kolten Wong's relay throw to the plate was in time, but it bounced out of the hands of catcher Yadier Molina and LeMahieu scrambled to the plate.
"Every big league game is awesome, even if it's a long one," Dickerson said. "Especially this last week, playing with Todd, it's a great memory for all of us."
It was another struggle for Oswalt, who was given a four-run lead and was one called strike away from five innings and at least a chance at a win. Instead, he was charged with four runs on five hits in 4 2/3 innings. The Rockies are evaluating Oswalt and could bring him back next year. But after not signing until May, he suffered a left hamstring injury in July and did not pitch again until this month.
Oswalt walked the first two hitters in the fourth and gave up Carlos Beltran's RBI single, Molina's sacrifice fly and Tony Cruz's run-scoring double to see his lead dwindle to one.
With two outs in the fifth, the Cardinals' Jon Jay singled and stole second. Oswalt thought his 2-2 pitch to Matt Holliday was a strike and began heading to the dugout. He would get there, but only after Holliday singled in the tying run. Manuel Corpas replaced him and ended the threat.
"A loss this time of year, you can never find too much to be positive about, but we were down four runs at one point in that game and we had chances," Cardinals manager Mike Matheny said.
"You look on the other side, that's got to be a tough game for them, to play that many innings and lose," Tulowitzki said. "Just being a baseball fan, you want to see if that affects them in the stretch run."
Holliday dribbled a two-out single through the middle against Rex Brothers for the lead in the ninth. With two down, Jay attempted to score on a Brothers pitch that hit the backstop and rebounded to Torrealba long before Jay arrived. Jay juked, to no avail, and Helton's dramatic homer begat extras.
Thomas Harding is a reporter for MLB.com. Read his blog, Hardball in the Rockies, and follow him on Twitter @harding_at_mlb. This story was not subject to the approval of Major League Baseball or its clubs.