Bochy has Giants refocused on little things
Bochy has Giants refocused on little things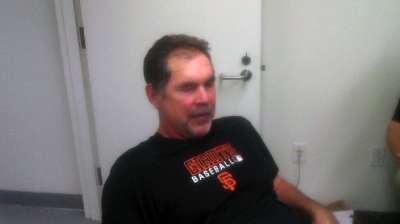 NEW YORK -- The Giants aren't waiting until Spring Training to address their flaws.
San Francisco's marginal improvement in recent weeks can be attributed to the team's redoubled focus in pregame drills and with their approach. Manager Bruce Bochy acknowledged Thursday that he and his staff have had to "be more demanding" about "the little things that got away from us, both on defense and the offense."
The Giants' defensive upgrade was demonstrated by their recent 13-game errorless streak, which matched a franchise record.
"On the defensive side lately, we've been more of the club we are instead of the club we became earlier in the year," Bochy said.
Bochy has strived to remind the Giants that "every pitch counts," which is the way they played while winning two of the past three World Series.
"There have been a lot of games where productive outs would have made a difference," Bochy said. "We've had plays in the outfield where we drift mentally. ... These are things I'll go through."
Bochy cited the July 26-28 series against the Chicago Cubs as an example of much that went wrong with the Giants this year. They hit .160 (15-for-94) overall, including 4-for-23 (.174) with runners in scoring position, and committed two errors in each of the first two games. The Giants lost each game by one run.
Since then, the Giants have sharpened their intensity at the plate -- "grinding out" at-bats, as Bochy likes to say. They've recorded their top three scoring games, beginning with a 14-10 victory at Miami on Aug. 16. They entered Thursday batting .289 for September, their best figure for any month.
Chris Haft is a reporter for MLB.com. This story was not subject to the approval of Major League Baseball or its clubs.