Barney takes accountability for 2013 play
Barney takes accountability for 2013 play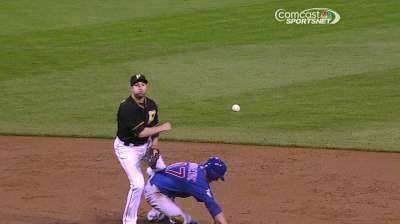 MILWAUKEE -- The Cubs lost 101 games in Dale Sveum's first season as manager and entered Thursday's game with 89 losses and 10 games to play. The front office has said it will not evaluate Sveum on the basis of wins and losses. But an evaluation is underway.
"In a season like this, it's hard to blame anybody," Cubs second baseman Darwin Barney said. "We're all accountable for our own actions and our play on the field.
"It is a business, and any time a team has this kind of a season, there's obviously going to be evaluations," he said. "That's not to say [Sveum] did a bad job or any of us think he did a bad job -- I stand behind Dale. It's just an evaluation, and we'll see how it goes."
Theo Epstein, Cubs president of baseball operations, will meet with Sveum and the coaching staff on Sept. 30 in Chicago after the regular season ends.
"I think a lot of us stand behind Dale and think he's the right fit for this team," Barney said. "That's obviously not our call. Everybody's being evaluated now -- it's top to bottom. It's how can we make this better and turn this around."
It's been a difficult year for Barney at the plate. The second baseman could win his second straight Gold Glove Award, but was batting .208 on the season and 4-for-30 on the current road trip entering play Thursday.
"Offensively, I can't blame anyone but myself," Barney said. "People provide insight from when they played or the type of player they were. Unfortunately for me, I listen to a lot of people. The age-old saying in baseball is: No one knows himself better than you, and what got you here is what will keep you here."
"I think it just gets to the point where you can't blame anyone but yourself for [struggles]," he said. "I think everyone has done nothing more than cared."
Carrie Muskat is a reporter for MLB.com. She writes a blog, Muskat Ramblings, and you can follow her on Twitter @CarrieMuskat. This story was not subject to the approval of Major League Baseball or its clubs.