Wright feels good, inching closer to return
Wright feels good, inching closer to return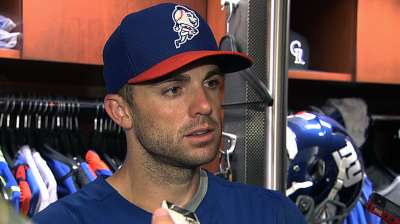 NEW YORK -- Since the time David Wright went on the disabled list, he's been steadfast that it would take about six to eight weeks to rehab his strained right hamstring back to full strength. That was the timetable the Mets' medical staff gave him, and he didn't expect it to change.
It's been about seven weeks since Wright was placed on the DL on Aug. 3. The third baseman's return to the lineup appears to be on schedule.
"I think that it takes a little bit of time to get into that baseball shape, and I'm getting pretty close," Wright said.
Wright went through running and fielding drills on consecutive days for the first time on Wednesday. He was back on the field on Thursday, and said he would see how he feels later in the day and then on Friday before determining if he'll play the Mets' series opener in Philadelphia.
"I feel as good as I can," Wright said. "It's tough being away from doing those types of things for so long and all of a sudden doing that and trying to rush everything as soon as possible."
He's been giving full effort while going through all of these drills, but it's still not the same as being in a game when his competitiveness is at its peak. Having to burst out of the batter's box to leg out a grounder or running in to field a slow roller to third base is going to add extra strain on his hamstring.
That's something the Mets have had to take into consideration when trying to get Wright back in a game. They want to make sure his legs are ready for those types of bursts of speed.
"That just can't be replicated," Wright said. 'The only way to feel confident about doing that is getting in a game and doing it. Obviously we've done everything we can to simulate or try to create game situations. Until you get in a game, you never know. But I feel like I'm pretty close."
As he's always been, though, Wright was adamant about playing again this season. Shutting it down until Spring Training isn't an option he's considering.
"If I'm able to play, I want to play," Wright said. "I don't understand why somebody that's healthy, that can play, that doesn't play."
Wright said he wants to play in front of the Mets' fans on their final homestand next week, and he wants to carry some degree of momentum into next season. It's been a difficult season for both Wright and the Mets, but this is one battle the third baseman said he wants to win.
Mets manager Terry Collins said it would also benefit the team's younger players to play alongside Wright, if even for a short amount of time before the season ends.
"Any time you play side by side with one of the best players in baseball," Collins said, "you're going to get something out of it."
Anthony DiComo is a reporter for MLB.com. Follow him on Twitter @AnthonyDicomo. Chris Iseman is an associate reporter for MLB.com. This story was not subject to the approval of Major League Baseball or its clubs.