Collins wants Tejada to take hold of shortstop in '14
Collins wants Tejada to take hold of shortstop in '14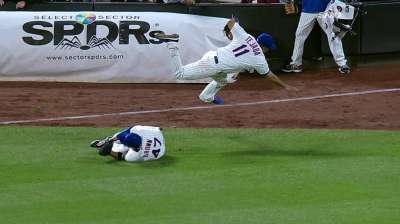 NEW YORK -- Mets manager Terry Collins expected to speak with Ruben Tejada on Thursday, one day after a broken right fibula ended the shortstop's season.
"My message is real simple: this job is his," Collins said of next year's starting shortstop gig. "But he's got to show everybody that he wants it desperately."
It is a similar message to what Collins has told Tejada each of the past two springs, only to watch his shortstop fizzle over the summer. This year, multiple major injuries, offensive struggles and a purported lack of work ethic conspired to send Tejada plummeting down the organizational depth chart.
"It's big-time frustrating," Tejada said of his latest injury. "I can't do anything [about] that. Learn about that, keep working and keep going forward."
The team's unquestioned starter at shortstop heading into Spring Training, Tejada will now enter this offseason with his future in flux -- even if his manager extended an offer of stability.
"You've got to say, 'Hey look, I'm going to dedicate this offseason to show up next spring to be the best player that I can possibly be,'" Collins said. "He's good enough to be that guy. But as this year showed, no job's that secure. You've got to come in and say, 'This is my job. I'm taking it. Nobody else is going to get it.'"
In the short term, Wilfredo Tovar will join the Mets in time for Friday's series opener in Philadelphia, platooning at shortstop with Omar Quintanilla. In the long term, anything can happen.
Though this winter's crop of free-agent shortstops is not barren, the top names available -- Jhonny Peralta and Stephen Drew, to name two -- come with significant risks. More likely, the Mets could look to replace Tejada via trade, given the pitching depth in their Minor League system.
But as far as internal options go, Collins said, Tejada remains the organization's top option.
"I don't ever worry about who's not here," Collins said. "The guys that are here right now, that should be his job. But he's got to go get it. It's not going to be handed to him."
Anthony DiComo is a reporter for MLB.com. Follow him on Twitter @AnthonyDicomo. Chris Iseman is an associate reporter for MLB.com. This story was not subject to the approval of Major League Baseball or its clubs.