M. Saunders finding late-season success
M. Saunders finding late-season success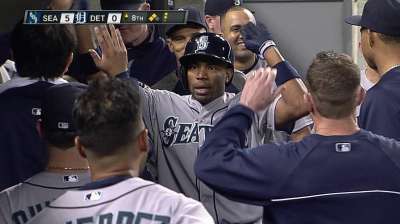 DETROIT -- It's been a frustrating season for Michael Saunders, but the Mariners outfielder found encouragement with four extra-base hits in his past two games going into Thursday's series finale with the Tigers.
Saunders had a pair of RBI doubles in Wednesday's 8-0 win after hitting a double and triple the night before. He's the first Mariner with two or more extra base hits in back-to-back games since Kyle Seager on May 29-30 in Texas.
Saunders said he made a minor adjustment in his hand placement several days ago, starting them a little farther back and up in order to simplify his approach to the ball, and is seeing dividends.
"It was just a feel when I'm at the plate, getting pitches to hit and fouling them off or fileting them to left field. It's something I wasn't doing last year," he said. "I feel I made a stride forward last year and have basically made a stride backward this year. It's still very brief, but I've noticed a difference with this adjustment and am looking forward to keep getting out there and continue working on it."
Saunders hit .247 with 19 home runs and 57 RBIs last year and was expected to play an integral part in this year's efforts, but has seen his playing time diminish in recent weeks while batting .237 with 10 home runs and 42 RBIs.
The sporadic playing time hasn't helped, but he understands it.
"It's not easy. I'm not going to lie," said the 26-year-old. "But it's kind of the situation we're in right now with the outfielders we have. By no means have I earned an everyday spot out there at this point. But in order for me to get back on track, when I do get the opportunity, I need to make sure I'm ready. And it starts with preparation in the cage, BP and days I'm not in there, being ready to go in the seventh or eighth or whatever it may be.
"Other than that, I have to continue to work hard. This was an obstacle for me, with my hand placement, and what I've done over the last couple days, it's minimal, yet it's encouraging. This is something I think will help me stay more consistent."
Manager Eric Wedge knows this has been a tough year for Saunders and likes what he's seen the last few days.
"It's just about him being in a better position and having a better feel for himself," Wedge said. "He's such a strong young man with all the tools he needs to be an all-around player. I'm glad to see he's establishing some consistency here and getting a chance to play more.
"It's been tough on him," said Wedge. "I've been trying to divvy up these at-bats as best we can and being respectful to the veterans and trying to get the young kids in there and he's taken a hit for that at certain points in time. But he's handled it very well."
Greg Johns is a reporter for MLB.com. Follow him on Twitter @GregJohnsMLB as well as his Mariners Musings blog. This story was not subject to the approval of Major League Baseball or its clubs.