Tigers lower magic number behind late rally
Tigers lower magic number behind late rally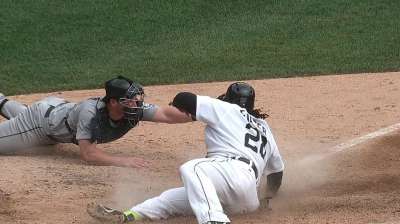 DETROIT -- The Mariners elected to intentionally walk Victor Martinez twice, but Martinez made them pay when he did get a chance to hit. His RBI double in the seventh inning gave the Tigers a lead they wouldn't relinquish in a 5-4 win on Thursday afternoon at Comerica Park.
With Prince Fielder on first base, after he singled home Torii Hunter to tie the game at 4 in the seventh inning, Martinez drilled a double to the left-field wall, scoring Fielder in a close play at the plate.
Detroit's magic number now sits at four to clinch a third consecutive American League Central title, while increasing its lead in the division to 6 1/2 games above the Indians.
"Victor is still Victor," Hunter said. "He's a professional hitter. He waits for his pitch, and if he gets one in the zone where he's looking, he's going to capitalize on it. He's been doing it all second half."
Martinez is batting .367 with an .899 OPS and 28 RBIs following the All-Star break. After struggling through the first three months of the season, he's been able to show his ability to protect Miguel Cabrera and Fielder in the lineup.
"I've known him a long time, and I know all the ways he can beat you," Mariners manager Eric Wedge said. "The last time, there was nowhere to put him because Prince was on first, and he did what he's done for years. He's just a great hitter."
Meanwhile, Doug Fister allowed four runs on nine hit in 7 2/3 innings, walking one and striking out 10. Of the 23 outs he recorded, 20 were by groundout or strikeout. It was the fifth game of his career with at least 10 strikeouts.
"He was good," said Martinez, who was making his third start of the season as a catcher. "He was working at a pretty good pace, working all of his pitches. He left a couple pitches up in the zone that got hit hard. Other than that, another great outing, and he gave us a great chance to come back and win this game and that's all that matters."
The Mariners scored in the first inning before Hunter hit his 16th home run of the season in the bottom half, tying the game at 1. Later in the inning, Martinez hit a double to the warning track in left that bounced off Raul Ibanez's glove to score Fielder from first, putting the Tigers in front, 2-1.
Cabrera hit a two-out single in the third inning, and Fielder followed with a double. The Mariners then intentionally walked Martinez, which led to an Omar Infante walk with the bases loaded, pushing the Tigers' lead to 3-1.
"You're taking one risk that you've got a young pitcher that might walk the next guy," manager Jim Leyland said. "And unfortunately for them, that's what happened. But that was a no-brainer. The strategy of it was absolutely right."
After retiring 10 of the last 11 batters he faced, Fister gave up two singles to begin the fifth inning. He then left a changeup over the plate that Dustin Ackley drilled over the right-field wall for a three-run homer, giving the Mariners a 4-3 lead.
"You've got to be aggressive and not fall behind because he has some chase pitches with the cutter and curveball," Ackley said. "You have to try to get that guy in as early as you can and not get into a battle and just put something in play."
Hunter hit a leadoff double in the seventh inning to right-center, and moved to third on a flyout. Fielder then followed with a single to left before Martinez's double to the left-field fence. While the Mariners set up a quick relay and the throw beat Fielder to the plate, similar to the final out in Saturday's game against the Royals, Fielder slid past the tag and slapped the ground in celebration.
"I know I got him, that's without a question," Mariners catcher Mike Zunino said. "I know I tagged him, but it was one of those where he said his foot got in there. [Home plate umpire Ron Kulpa] gets the final say-so, so that's all you can do."
After Fister exited with two outs in the eighth inning, it was up to the bullpen. Drew Smyly struck out the only batter he faced and Joaquin Benoit earned his 22nd save of the season by pitching a perfect ninth inning.
" "Benoit, you know he has been lights out like all year," Hunter said. "Smyly has been huge for us. We need a lefty to come out, and Smyly has been doing that. He's been picking us up big time. Our bullpen has been doing a great job."
It was the Tigers' seventh win of the season when trailing after six innings, and it puts them another step closer to the postseason.
"We have a job to do, and that's what a team does is trust one another," Fister said. "I think that's what kind of sets us apart right now. We're trusting one another, we're playing well together, and kind of getting some momentum."
Bobby Nightengale is an associate reporter for MLB.com. This story was not subject to the approval of Major League Baseball or its clubs.