Ackley's big homer not enough to stave off Tigers
Ackley's big homer not enough to stave off Tigers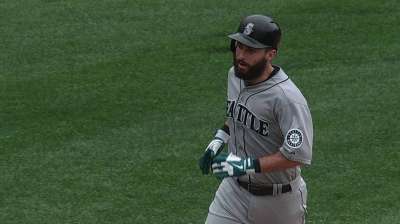 DETROIT -- Prince Fielder scored the go-ahead run on a close play at the plate in the seventh inning as the Tigers pulled out a 5-4 victory over the Mariners on Thursday afternoon in the finale of a four-game series at Comerica Park.
Replays seemed to show rookie catcher Mike Zunino applying the tag in time to get Fielder, but home plate umpire Ron Kulpa ruled the big first baseman safe after he'd rumbled all the way from first on a double into the left-field corner by Victor Martinez.
"I know I got him, that's without a question," said Zunino. "I know I tagged him, but it was one of those where he said his foot got in there. He gets the final say-so, so that's all you can do."
Shortstop Carlos Triunfel's relay throw was to the outside of home plate, but arrived ahead of Fielder as Zunino grabbed it and made a lunging tag.
"I got him right on the chest and then it spun around and got him right under the chin," said Zunino. "It just sort of took me with him. I thought Triunfel and Raul [Ibanez] did a great job getting that ball in and we executed the relay pretty well."
Manager Eric Wedge argued the play, but didn't hear of the video evidence until later.
"I guess on the replay [he appeared out], but it was bang-bang out there," Wedge said. "Hard to tell. I thought Mike did a nice job though because the way the throw came in and the way the slide went, he had to really work hard to get him. So Mike did a nice job there."
It's been that kind of road trip and that kind of season for the Mariners, who outscored the Tigers 16-15, but still went 1-3 in the series against the American League Central leaders. Seattle is 18-26 in one-run games this year and 67-86 overall on the season with nine games remaining.
Rookie James Paxton put the Mariners in position to win his third straight start, turning a 4-3 lead over to the bullpen after allowing five hits in five innings. But the Tigers scored twice against relievers Tom Wilhelmsen and Charlie Furbush and then held on as they improved to 89-64.
"We gave them everything they could handle in these four days," Wedge said. "We're not looking for moral victories, but I am very appreciative of the way these guys are fighting and stepping up to these teams at this time of the year. We were in position to win again today. We've got some tired arms down in that bullpen. They're working and grinding through it. But still, the experience they're gaining here is invaluable."
Paxton was among the youngsters climbing the learning curve as the 24-year-old held his own against the high-powered Tigers on a day he didn't have his best stuff. The lanky southpaw had allowed just one earned run in 12 innings in winning his first two starts against the Rays and Cardinals and was in position to make it three in a row until the Tigers rallied after his departure.
"Today was definitely a battle," said Paxton. "I didn't have my best stuff and it was one of those games where you just have to grind it out and I just did my best to keep the team in the game and give us a chance."
"He didn't have quite the same command we've seen him have," said Wedge. "But he still battled and didn't give in to them. In ways, the way he had to work through this performance was even more impressive than the first two."
Paxton saw his ERA climb to 2.12 while issuing four walks -- two intentional -- with three strikeouts in a 95-pitch outing. He survived a two-run first inning and settled in well enough to depart with the advantage after center fielder Dustin Ackley cracked a three-run homer in the top of the fifth.
But Detroit rallied in the seventh, with Fielder scoring the winning run as he scored from first on a Martinez double for the second time in the game.
Ackley's shot off former Mariner right-hander Doug Fister was his fourth homer of the year and increased his RBI total to 30. He's hit .311 since the All-Star break to raise his season average to .252.
He said that hit was indicative of the aggressive approach he's succeeded with in the second half.
"That 2-0 pitch, the changeup, probably earlier in the year I'd have taken that just because it was a different speed or whatever," Ackley said. "But now, my swing is ready to hit those off-speed pitches."
Third baseman Kyle Seager went 2-for-4 and also lined out hard to center field as he looked better after going 2-for-40 over his previous 11 games.
The loss dropped the Mariners to 2-5 on their current trek as they head now to Anaheim to close out their road schedule with a three-game set.
Fister gave up nine hits and four runs over 7 2/3 innings with one walk and 10 strikeouts, improving to 13-9 with a 3.71 ERA on the season. He's 2-0 with a 2.49 ERA in three career starts against his former Seattle club.
"Those guys over there, still some of them are my closest buddies in the game," Fister said. "But it doesn't take away from what we're trying to do here. I can be friends with them off the field, but on the field we're in a battle."
And Fister wound up the winner in this one, with Furbush -- one of the four players traded to Seattle in the deal that sent him to Detroit two years ago -- taking the loss.
Greg Johns is a reporter for MLB.com. Follow him on Twitter @GregJohnsMLB as well as his Mariners Musings blog. This story was not subject to the approval of Major League Baseball or its clubs.